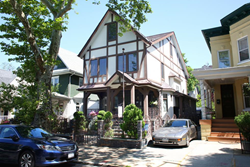 Where Real Estate Is Never Boring
POMPANO BEACH, Fla. (PRWEB) October 08, 2018
"Saturday Night Fever House"
Recently celebrating its 40th anniversary of the film's release, the Brooklyn home where the movie-classic "Saturday Night Fever" was filmed is for sale. Still caught in its nostalgic time warp, the main floor is almost wholly unchanged from the scenes where Tony Manero (John Travolta) lived. It is now for sale at $2.249 million.
Based on a 1976 "New York Magazine" story, "Tribal Rights of the New Saturday Night," Manero was caught in a vice between his stern Catholic Italian parents and a dead-end job as a hardware store clerk with no hope of becoming anything more than the black sheep of his dysfunctional family. His only relief was going to the local club on Saturday night with his pals dancing the night away to the new genre of disco music. His dancing skills garnered him the first real approval of his lifetime.
"Saturday Night Fever" was a turning point for disco music that swept around the world like a musical tsunami, sprang Travolta from a teen television character in ABC's "Welcome Back Kotter" to a major movie star and reinvigorated the Bee Gees' career with the movie's soundtrack selling over 40 million copies. In 2010, it was recognized by the Library of Congress and added to the National Film Registry. Travolta was nominated for the Academy Award and Golden Globe Award for Best Actor and the film was nominated for the Golden Globe and Writers Guild.
Today, "Saturday Night Fever" fans have the opportunity to own and live in the original setting where the movie was filmed. The exterior of the 1920's Tudor has undergone a face lift but the first-floor interior main rooms where filming took place are still exactly as they were in 1977. Measuring in at 2,472 square feet, the home has four bedrooms, four baths, original moldings, fireplace and mantle, built-in china cabinets and flowery wallpaper in the dining room. Updates made in 2005 include granite countertops, stainless-steel appliances, Jacuzzi and floor-to-ceiling windows. The master suite, which takes up much of the upper floor, has a quaint wood stove that adds to the home's antique character.
The "Saturday Night Fever" house where super fans can relive film history is for sale, priced at $2.249 million. Co-listing agents are Anthony Muratore and Wendy Jones of Ideal Properties Group, Brooklyn, New York.
"America's Most Expensive Home Going To Auction"
At one time Le Palais Royal, now re-named Playa Vista Isle, in Hillsboro Beach, Florida was the most expensive home on the U.S. market at $139 million while still under construction. With construction completed in 2018, it was re-listed at $159 million and will now go to auction on November 12th with no reserve.
Modeled after the Palace of Versailles in France, Playa Vista Isle is located on the Atlantic Ocean, about halfway between Boca Raton and Fort Lauderdale's luxury beach condos - a wealthy enclave of ornate mansions that the locals refer to as "Millionaire's Mile." A special feature unique to the town is that homeowners can swim and sun in their oceanfront backyards and then walk a few feet out their front doors to their yachts docked across the ritzy street on the Intracoastal Waterway.
Playa Vista Isle originally went on the market in 2014 as Le Palais Royal with the $139 million price tag, selling unfinished. After a year with no takers, the owner pulled it off to complete it and make additions both in land and amenities. The adjacent 2± acre north lot (part of the total 5± acres) may be left as-is or used for future development, and can accommodate an additional structure, garden area or recreational facility.
The 58,000-square-foot Beaux Arts mansion with 30,000 square feet of living space is on over four acres between 500-feet of Atlantic Ocean beachfront and 500-feet of the Intracoastal near the picturesque Hillsboro Lighthouse. Although the South Florida beaches are public, this one is hard to access behind the street of mansions and thick landscape, thereby affording the home additional privacy from gawkers. The main house has a 30-car subterranean garage and 11 bedrooms and 22 baths, which include three master suites and a presidential room with a plunge pool on its outdoor terrace. There is also an 18-seat IMAX home theater with a 50-foot-wide screen. Grounds include a putting green; a 29-foot, three-tier fountain; a 4,500-square-foot infinity pool; LED-lit double-loop enclosed waterslide and a glass-bottomed Jacuzzi suspended over the swimming pool; white sand beach and large private pier with two newly constructed deep-water concrete docks on the Intracoastal. Some of the world's best deep-sea fishing and the Florida Coral Reef are just minutes away by boat via the Hillsboro Inlet.
One of the most expensive and luxurious mansions in the U.S., listed at $159 million with almost 500 feet of beachfront, is co-presented by ONE Sotheby's International Realty and Concierge Auctions. Auction date begins November 12th and ends November 15th.
Visit TopTenRealEstateDeals.com for more historic, spectacular and celebrity homes and real estate news.