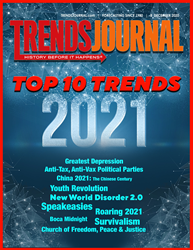 KINGSTON, N.Y. (PRWEB) December 18, 2020
The world is not prepared for 2021.
Most of the media is looking back on what happened in 2020 – but that's over.
What's ahead? What's next? What to do?
The Trends Journal's Top 10 Trends for 2021 provide trend forecasts and analysis unavailable from any other source that will show your audience new realities in the coming year.... and beyond.
Here they are:
1. GREATEST DEPRESSION
2. ANTI-VAX, ANTI-TAX POLITICAL PARTIES
3. SURVIVALISM
4. ROARING 2021
5. SPEAKEASIES
6. YOUTH REVOLUTION
7. BOCA MIDNIGHT
8. CHURCH OF FREEDOM, PEACE & JUSTICE
9. CHINA 2021: THE CHINESE CENTURY
10. NEW WORLD DISORDER 2.0
For more on any of these trends, click here.
About Gerald Celente: Publisher, Trends Journal • Founder/Director, The Trends Research Institute • World's #1 Trend Forecaster • Forecasting Worldwide Since 1980
To interview Gerald Celente, please contact:
Laura Martin
lmartin@trendsresearch.com
845-331-3500