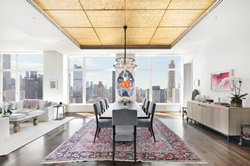 Where Real Estate Is Never Boring!
POMPANO BEACH, Fla. (PRWEB) January 30, 2020
"January's Top 10 U.S. Real Estate News"
"Meryl Streep's Tribeca Penthouse"
It took almost two years but Meryl Streep finally sold her Tribeca penthouse for $15.8 million. Meryl first put the 4,000-square-foot home on the market in 2018 for $24.6 million and later reduced it to $18.25 million. Her penthouse has four bedrooms and sweeping New York skyline views.
"Housing Starts Surge To 13-Year High"
From U.S. Government figures, new U.S. housing starts surged to a 13-year high in December. According to the Commerce Department, new U.S. housing starts jumped 17 percent to a 1.6 million annualized rate.
"Jennifer Lawrence's Stunning Penthouse"
Superstar Jennifer Lawrence is selling her glamorous New York penthouse which she bought in 2016 for $15.6 million. Located in the Upper East Side at the top of a 30-story condominium, the 4,073-square-foot apartment has three bedrooms, five baths and stunning city views. With a downturn in the Manhattan luxury-condo market, Jennifer has lowered the original price of $15.45 million down to $12 million.
"Larry King Sells His Beverly Hills Mansion"
Larry King has sold his Beverly Hills home for $15.5 million. Larry was asking $17 million for the six bedroom home with over 9,500 square feet plus a guest house and pool.
"John Travolta's L.A. Mansion Sold"
John Travolta and Kelly Preston have sold their longtime L.A. home to their manager for $18 million. The Brentwood neighborhood, Spanish-style home on two acres was built in 1949. The couple also own several homes in Florida, a home in Maine and at least one additional Southern California home.
"Michelle Pfeiffer Sells Silicon Valley Home"
Michelle Pfeiffer and her husband, David E. Kelley, have sold their Silicon Valley home for $22 million - $7.5 million less than their original list price. The 6,000-square-foot, four-bedroom home on eight acres includes an octagonal barn, apple orchard, pool, tennis court and three guest apartments.
"Buying a Florida Home Cheaper Than Renting"
For more than half of America, buying a home is less expensive than renting. According to AttomData.com, buying a median priced three-bedroom home is cheaper in 53% of the 855 U.S. counties included in their report. Falling interest rates and rising rents have made buying a better deal to purchase a home or condo in Fort Lauderdale, Miami and Tampa than to rent.
"Ellen Pompeo's Sag Harbor Home"
Grey's Anatomy star Ellen Pompeo has sold her Hamptons home on over 8 acres in Sag Harbor for $2.995 million. The 2400-square-foot home was built in 2013 with five bedrooms and four baths divided over three floors.
"'Señorita' Songwriter Sells Gorgeous 1930's LA Home"
Ali Tamposi wrote or co-wrote many of the blockbuster songs of the just-completed decade starting with Kelly Clarkson's mega-hit, "Stronger (What Doesn't Kill You)" in 2011; Camila Cabello's "Havana" in 2017 and most recently with 2019's #1 summer hit song, "Señorita." Tamposi's classic Mediterranean-style home that she bought in 2017 in L.A.'s Los Feliz neighborhood sold in less than one month.
"Cardi B Buys Mansion With Gun Range"
Cardi B and her husband, Offset, had a nice Christmas with their purchase of an Atlanta-area, 22,000-square-foot home with five bedrooms, seven full baths and a pool. The mansion also comes with a gun range and steel walls. Asking price was $5.79 million.
For more celebrity homes and real estate news, visit TopTenRealEstateDeals.com.