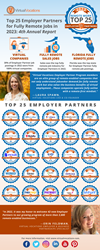 "Virtual Vocations Employer Partner Program members are an elite group of remote-enabled companies...39% of job postings submitted by members in 2022 were from 100% virtual Employer Partners." –Laura Spawn, CEO and co-founder of Virtual Vocations
TUCSON, Ariz. (PRWEB) April 05, 2023
For the fourth consecutive year, Virtual Vocations published its annual ranking of the company's top 25 Employer Partner Program members. The businesses and organizations included on the list were the best for fully remote hiring during 2022 among the company's membership-based employer network.
Founded in 2007, Virtual Vocations has connected millions of remote jobseekers with human-screened, flexible job openings. On Monday, the company named its Top 25 Employer Partners for Fully Remote Jobs in 2023 to highlight the companies that worked directly with the Virtual Vocations team throughout last year to share their current remote vacancies with jobseekers eager for fully virtual work.
From January 1 to December 31, 2022, 174 Employer Partners added nearly 600 job postings to the Virtual Vocations job board. Among these fully remote job postings, most were full-time, permanent positions for experienced professionals with at least a bachelor's degree.
According to Virtual Vocations CEO and Co-Founder Laura Spawn, much of the success of its Employer Partner Program member network can be attributed to the companies' remote-first mindset. "Virtual Vocations Employer Partner Program members are an elite group of remote-enabled companies that not only understand jobseeker demand for fully remote work but also value the business benefits of virtual employment—so much so that 39% of job postings submitted by members in 2022 were from 100% virtual Employer Partners."
The Employer Partner Program is managed by Erin Feldman, the employer and business partnerships specialist for Virtual Vocations, who works directly with company representatives to manage their accounts and serve their hiring needs. "Working directly with our dedicated Employer Partners is a privilege. Their commitment to fully remote work and the flexibility it provides to jobseekers inspires me daily to continue fostering and strengthening connections between our partners and Virtual Vocations' valued members," said Feldman.
During the last year, Feldman recruited more than 40 new member organizations to the Employer Partner program, saying, "In 2022, it was my honor to welcome 42 new Employer Partners to our growing program of more than 3,600 remote-enabled businesses."
Ranked by the number of remote jobs shared from January through December 2022, the following companies comprise Virtual Vocations' top 10 Employer Partners for fully remote jobs that jobseekers should watch for new openings in 2023:
1. Agilent Technologies, Inc.
2. BairesDev LLC
3. Littera Education, Inc.
4. Study.com
5. TTEC Holdings, Inc.
6. Achieve Test Prep
7. Boldly
8. StudySmarter
9. Virbela
10. EK Health Services, Inc.
Other remote-enabled organizations included on the top 25 list for 2023 include household names, such as Intuit Inc. and Susan G Komen, as well as emerging remote employers, like eXp Realty and Omni Interactions, Inc.
To see the full list of Virtual Vocations' Top 25 Employer Partners for Fully Remote Jobs in 2023 and learn more about which industries and U.S. states are most popular for remote hiring with these companies, visit: https://www.virtualvocations.com/blog/annual-statistical-remote-work-reports/top-25-employer-partners-for-fully-remote-jobs-in-2023/
ABOUT VIRTUAL VOCATIONS
Founded in 2007 by CEO Laura Spawn and her brother, CTO Adam Stevenson, Virtual Vocations is a small company with a big mission: to connect jobseekers with legitimate remote job openings. To date, Virtual Vocations has helped more than four million jobseekers in their quests for flexible, remote work.
In addition to providing a database of current, hand-screened, and 100% remote job openings, Virtual Vocations offers jobseekers a number of tools to aid in their job searches, including exclusive career courses, downloadable jobseeker content, and career coaching and resume writing services. Virtual Vocations also releases several data-driven reports each year on current trends in remote work.
Virtual Vocations, Inc. is a private, family-owned, and 100% virtual company incorporated in Tucson, Arizona.
PRESS INQUIRIES
Kimberly Back
kim(at)virtualvocations(dot)com
VirtualVocations.com