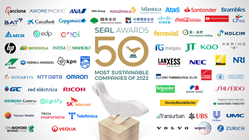 "Encouragingly, the number of companies participating in ESG benchmarking assessments has increased by over 450% in the past decade. As a result, the bar for world-class ESG performance has risen our mission at SEAL is to rigorously assess and then celebrate extraordinary sustainability leadership."
SAN DIEGO (PRWEB) February 28, 2023
SEAL Awards today announced the winners of the 2022 SEAL Business Sustainability Awards, celebrating their leadership, transparency, and commitment to sustainable business practices.
Global brands like Colgate-Palmolive, HP, Kering, Stanley Black & Decker, Inc. and Unilever were among those selected for the SEAL Organizational Impact Award. Selected by combining two premier ESG data sets - the CDP A-List ™ and the Corporate Sustainability Assessment (CSA, now part of S&P Global ESG Scores ™) - the 2022 SEAL Organizational Impact Award honors the 50 most sustainable companies globally.
"Encouragingly, the number of companies participating in ESG benchmarking assessments has increased by over 450% in the past decade. As a result, the bar for world-class ESG performance has risen," commented Matt Harney, SEAL Awards' Founder. "Our mission at SEAL is to rigorously assess and then celebrate extraordinary sustainability leadership. We're honored to present our analytically-driven selections for the Top 50 Most Sustainable Companies in the World."
The Organizational Impact winners were:

Acciona, S.A.
Amorepacific Corporation
ANA Holdings Inc.
AstraZeneca PLC
Atlantica Sustainable Infrastructure plc
Atos SE
Banco Santander, S.A.
Brambles Limited
British American Tobacco p.l.c.
CaixaBank, S.A.
Capgemini SE
Cathay Financial Holding Co., Ltd.
China Development Financial Holding Corporation
Cisco Systems, Inc.
Coca-Cola Europacific Partners PLC
Colgate-Palmolive Company
CP ALL Public Company Limited
Delta Electronics, Inc.
EDP - Energias de Portugal, S.A.
Enel SpA
Ferrovial, S.A.
First Financial Holding Co., Ltd.
Holcim Ltd
HP Inc.
Iberdrola, S.A.
Intesa Sanpaolo S.p.A.
Italgas S.p.A.
Japan Tobacco Inc.
Kao Corporation
Kering SA
Klabin S.A.
Konica Minolta, Inc.
Koninklijke KPN N.V.
Koninklijke Philips N.V.
LANXESS Aktiengesellschaft
NEC Corporation
Nikon Corporation
Nomura Research Institute, Ltd.
Novartis AG
NTT DATA Corporation
OMRON Corporation
Ono Pharmaceutical Co., Ltd.
Owens Corning
Philip Morris International Inc.
PTT Global Chemical Public Company Limited
Red Electrica Corporacion, S.A.
Ricoh Company, Ltd.
Schneider Electric S.E.
Sekisui House, Ltd.
Shiseido Company, Limited
Siemens Gamesa Renewable Energy, S.A.
Signify N.V.
SK Telecom Co.,Ltd
Stanley Black & Decker, Inc.
Sumitomo Forestry Co., Ltd.
Taiwan Mobile Co., Ltd.
Tech Mahindra Limited
Telefonica, S.A.
Transurban Group
UBS Group AG
Unilever PLC
United Microelectronics Corporation
UPM-Kymmene Oyj
Veolia Environnement S.A.
Volvo Car AB (publ.)
Wipro Limited
Zurich Insurance Group AG
Selected Sustainability Award Winner Perspectives:
"Sustainability is at the heart of HP's business strategy," said James McCall, chief sustainability officer at HP. "We have one of the most comprehensive environmental and social impact agendas in our industry and are honored to be recognized by SEAL for our ongoing commitment toward meaningful sustainable policies and practices."
ABOUT THE SEAL AWARDS
SEAL (Sustainability, Environmental Achievement & Leadership) Awards is an environmental advocacy organization that honors leadership through our business sustainability awards & environmental journalism awards while funding research and pursuing our own environmental impact campaigns.
The SEAL Awards' core pillars are:
SEAL Awards is not affiliated with the CDP, CSA, or S&P Global. The selection process for the SEAL Organizational Impact Award drew entirely upon publicly available information from each of the CDP and CSA.
In the event, you are interested in the 2023 SEAL Business Sustainability Awards (e.g. SEAL Award for Environmental Initiatives, SEAL Sustainable Product Award, SEAL Sustainable Service Award, SEAL Sustainable Innovation Award), our final entry deadline is April 27th.
Entries can be submitted here: https://bit.ly/2023-seal-business-sustainability-awards