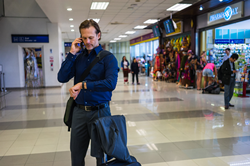 There wasn't anything on the market that fought odors and wrinkles and was always professional looking and fashionable for every experience -- which is what inspired us to create the Libertad Travel Shirt made with Merino wool.
LOS ANGELES (PRWEB) November 06, 2019
Libertad, is the Perfect Travel Shirt. It's stylish, comfortable, cool, self-wicking and thanks to its proprietary lightweight Merino wool design, the all-natural high-performance fabric keeps it odor and wrinkle free for days at a time, even in tropical climates (see five-day odor test challenge video). With Libertad, one shirt does the work of a suitcase full of cotton and polyester so travelers can pack less but still get more.
Libertad is the first company to combine the all-natural performance of Merino wool with upscale style. The result is a new luxury line of travel shirts perfect for year-round travel.
Libertad is an advocate for the benefits of Merino and shares its top seven reasons why it has the right look, comfort and functionality for holiday travel. This time of year, travelers move from hot airports to cold weather for family visits, and from cold to hot weather for tropical winter getaways. Libertad's Merino offers optimal performance in all temperatures and for all occasions.
Top 7 Merino Vs. Cotton

Wool lasts longer - Studies have shown that wool can bend 32,000 times before breaking versus cotton at 3,000
Wool keeps you warm on a cool day – cotton cools, even becomes freezing when wet & can bring on hypothermia
Wool is moisture wicking on a hot day – while cotton becomes sticky with sweat, wool can actually hold a third of its weight in moisture before it even starts to feel wet
Wool dries faster than cotton
Wool does not absorb body odor so it can be worn days without washing - cotton will start to stink on the day worn, chemical additives to cotton will only help temporarily (By 10 washes, most additives have no effect)
Wool is naturally wrinkle resistant - Non-iron, wrinkle resistant cotton shirts are treated with chemicals which are not as effective as wool and also lose effectiveness with each wash
Wool is naturally UV resistant - by contrast, common apparel fabrics without chemical treatments perform poorly under the harsh sun.
The inspiration for the Libertad Travel Shirt came to founder Kyle Barraclough 15 years ago when he left corporate America to travel the world searching for a new way to work and live.
"Traveling is filled with meeting new people and discovering unique opportunities, but I quickly learned that the usual travel wear of polyester, plaid, cargo pockets and flip-flops closed more doors than it opened," said Barraclough. "There wasn't anything on the market that fought odors and wrinkles and was always professional looking and fashionable for every experience."
About Libertad Perfect Apparel
Libertad Perfect Travel Shirts are made from a proprietary lightweight Merino wool. Merino has unparalleled odor resistance, wrinkle resistance, moisture management and temperature regulation. It's also all-natural, so there is no need for chemical additives.
Libertad travel shirts are:
ODOR FREE: Merino wool inhibits growth of odor causing bacteria so completely that it can be worn day after day.
WRINKLE RESISTENT: The natural crimp helps the fiber recover from wrinkles and look better longer than cotton.
MOISTURE WICKING: Wool pulls moisture right off the body and efficiently evaporates it into the air so you don't feel damp and clammy.
TEMPERATURE REGULATION: Wool has tiny "air pockets" that insulate you. It keeps you cool when it's hot and warmer when it's cool.
For more information visit LibertadApparel.com.