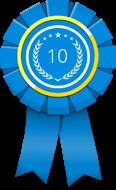 SAN FRANCISCO (PRWEB) March 26, 2019
10 Best Design recently presented awards to the top Bay Area web design firms, with Eight25Media receiving the first-place honor.
10 Best Design is a ranking organization that creates monthly lists of the best web design firms in different cities. They focus on providing creating lists through both quantitative and qualitative data that helps businesses reach their audience through amazing websites. They understand that in this day and age, every business needs a website that captures the attention of their audience. Having a poor website can even lead companies to lose out on incredible deals. However, by providing the best web design companies, they help businesses choose the best design firm for their company. They focus on choosing companies that believe in building a relationship with their clients to produce a website that reflects their standards and mission. They create incredible transitions, animations, and digital layouts that provide businesses with a sleek website. The list for SF web design companies is geared toward the best web design companies for tech startups that are looking for funding or national businesses that want to take the next step.
For March, Eight25Media emerged as the winner on the monthly list of the best web design firms. The digital agency provides top rated websites to their customers by focusing on custom development, mobile apps, and website design. They have created more than 500 websites that were designed to get customers to take action. They are also a certified Google Partner. They have built websites for Fortune 500 companies. They also create UI/UX for the clients to access the websites on all devices.
The second-best web design firm on the list is KNI, otherwise known as Kurt Noble Inc. The company is an award-winning digital agency based in the Bay area. As a top Bay Area web design agency, KNI focuses on helping companies grow and convert more customers through a seamless website. They want to provide websites that are incredibly flexible. They design, code, and maintain websites to help their clients. They also help them create a digital conversion funnel that is optimized with any CRM the company might use including Salesforce, Marketo, Optimizely, and HubSpot. They believe in thinking big but using a small team to stay efficient, allowing them to outpace the competition. They also understand that every client's needs are unique. They do not all use the same tools. Instead they focus on integrating all the tools and SaaS applications to keep the website running smoothly.
For more details about the winners for this month, visit http://www.10bestdesign.com.