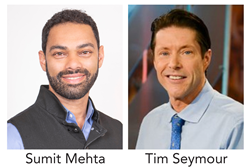 Like any new asset class progression, 'Phase 2' of cannabis investing will demand more attention to the bottom up rather than the top down, says Tim Seymour.
PARAMUS, N.J. (PRWEB) February 06, 2020
The market to invest and finance cannabis businesses is accelerating in the New York tri-state region, and the Cannabis World Congress & Business Exposition (CWCBExpo) New York will offer a headline presentation with two renowned financial and cannabis strategists. The 7th Annual CWCBExpo New York, the leading East Coast event focused on the business of cannabis and hemp, takes place May 28-30 at the Jacob Javits Convention Center at a pivotal time in cannabis reform and market growth for a region that includes the large markets of New Jersey and Connecticut.
"Cannabis Capital Crossroads" a candid conversation between Tim Seymour, CNBC "Fast Money" Trader and Founder of Seymour Asset Management, and Sumit Mehta, Founder and CEO of Cannabis Investment Firm MAZAKALI, will take place on Thursday, May 28th. Tim and Sumit will share their unique fundamental, financial and futuristic viewpoints on an industry at the cusp of global renaissance. Their knowledge of the evolution, status and destination for the cannabis industry continues to have an indelible impact on investors, operators, and entrepreneurs looking to navigate this volatile yet lucrative emerging market..
Tim Seymour is the Founder and Chief Investment Officer of Seymour Asset Management (SAM), providing both asset management and wealth management services for its clients. Seymour is a recognized voice within the investment community as a trader and market strategist on CNBC, including over a decade on the top markets show, Fast Money.
"Like any new asset class progression, 'Phase 2' of cannabis investing will demand more attention to the bottom up rather than the top down," says Tim Seymour.
With a history of investing in new and emerging asset classes, Tim has been an early stage investor in the cannabis industry and currently acts as Senior Consultant to JW Asset Management Growth Cannabis Fund, and is Portfolio Manager for the Amplify Seymour Cannabis ETF.
Sumit Mehta is the Founder and Chief Executive Officer of MAZAKALI, a turn-key platform for raising and investing cannabis capital. MAZAKALI offers capital advisory, investment banking, asset management, strategic consulting and board advisory services enhanced by a technology-enabled investment portal.
"It is likely that the cannabis complex will prove to be the best performing asset class over the next decade, and also likely that over time no industry will remain untouched by this plant." says Sumit Mehta.
Prior to joining the cannabis industry, Sumit spent two decades in portfolio management, investment planning, capital introduction, strategic consulting and relationship management at Merrill Lynch, UBS Investment Bank, Raymond James Financial and JP Morgan.
"Cannabis Capital Crossroads" is part of the comprehensive CWCBExpo New York conference program. Over three days, the seminars, panels and workshops provide relevant, data-driven information and industry trends moving this emerging and opportunistic market forward.
The dynamic CWCBExpo New York expo floor has moved to the expansive third level of the Javits Center (Hall 3A), tripling its space for exhibits. The most innovative product, service and technology companies will showcase their solutions for the entire cannabis ecosystem.
Active outreach and collaboration with community organizations, non-profits and cultural events in the New York and tri-state region is underway to create the most dynamic CWCBExpo Cannabis Week for all stakeholders in the exploding cannabis industry. Exciting updates will be announced soon.
To register and secure the best pre-show pricing go to: https://www.cwcbexpo.com/attend-registration-nyc-2020/. For more information on limited prime exhibit space and sponsorship opportunities, email: sales@cwcbexpo.comor call 201-580-2050.
About Cannabis World Congress & Business Expositions (CWCBExpo)
CWCBExpo are the premier business-to-business events for the legalized cannabis industry and are held 3 times per year in the largest business, financial, and media markets—New York City, Los Angeles and Boston. CWCBExpo's Cannabis Week will bring the industry together for continued networking and community-building. Connect on Twitter, Facebook, Instagram, and LinkedIn: @cwcbexpo.
Editor's Note: Qualified members of the media are invited to register as press for CWCBExpo New York. Request a press badge at: https://www.cwcbexpo.com/press-registration-new-york/ or email: press@cwcbexpo.com