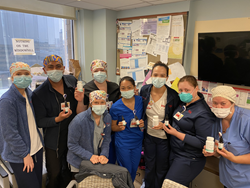 We feel an immense responsibility to help support the health of our frontliners while they tirelessly work to take care of our local communities.
NEW YORK (PRWEB) May 28, 2020
NJ-based CBD company Veré has announced its continued support to the frontliners, and has recently added the New York Presbyterian Columbia Hospital as its latest recipient of donated CBD products.
As a female-founded brand, Veré is disrupting the status quo in this male-dominated hemp industry with their mission-led business practices. Veré is built upon the principle of helping, and supporting others on their paths to becoming their best selves. In line with its mission, Veré is showing up to support our heroes who are putting their lives at risk to protect our nation and local communities during COVID-19.
"Seeing first-hand the pain and exhaustion that is plaguing our frontliners, we felt a great responsibility to help," Danielle Marie, Co-Founder of Veré shared. "While the frontliners work tirelessly to take care of our local communities, we wanted to help take care of them and have donated our CBD products to healthcare workers, first responders, grocery store employees and more."
CBD Oil can help provide relief from stress and anxiety, and Veré hopes its CBD products continue to help those working overtime relax and recharge—mentally and physically—so they can keep fighting for their patients and our local communities. Veré CBD products are award-winning and Veré is recognized as one of the top CBD companies in the U.S. Veré CBD Hemp Oil and CBD Gummies promote healthy sleep cycles, pain management and support mental clarity.
Veré has a concise line of CBD products that are the perfect remedy before starting or after a long day of work. For more info, please contact Veré at info@verecbd.com.
About Veré: Veré is headquartered in Pompton Lakes, NJ and is committed to delivering high-quality and pure CBD products. Before and after each harvest, our organic hemp farmers—in Oregon and Colorado— test the plant material to ensure the absence of pesticides, heavy metals, molds, and mildews. After testing is completed, our hemp farmers then process and ship the Cannabinoid-Rich plant material to our state-of-the-art extraction and purification facilities where we turn the hemp biomass into our CBD Oil. Once converted into oil, each batch is tested in our labs and then shipped to our cGMP manufacturer to be bottled. But before the CBD Oil arrives at your door, it undergoes another round of testing at a 3rd-party lab. The result: guaranteed purity, potency and quality. That's the Veré way! Learn why the Global Health and Pharma magazine has recognized Veré as the "2020 CBD Hemp Oil Brand of the Year" at http://www.verecbd.com.