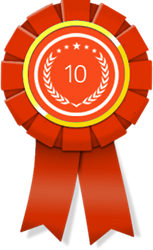 CHICAGO (PRWEB) July 30, 2018
10 Best SEO is honored to present the July 2018 winners of its Best Chicago SEO Agency awards for March 2017, with Straight North topping the list in this category.
The 10 Best SEO team began in San Francisco in 2012 and has grown consistently since then. This company has been listed on the INC 500 list of fastest-growing businesses. The main reason that 10 Best SEO exists is to help companies and clients discover the best SEO agencies in their regions. As part of this commitment to excellence, 10 Best SEO gives out awards to top SEO agencies. This is now done on a monthly basis to recognize brands that are constantly changing, growing and improving.
By using thorough testing and tight specifications, 10 Best SEO weeds out many agencies to leave their awarded list filled with only the best contenders. The winners are those agencies that have proven that they can use keywords and SEO to get their clients to the top of search engine results lists in no time at all. Not only do these awarded companies get their clients to the top of search engine results pages, but also they show that they know what individuals are searching for online and match these keywords with their clients' websites.
In the Chicago area, Straight North was named Best SEO Agency with a rating of 95 percent. As a top SEO agency, Straight North began over two decades ago and is well-regarded firm throughout the area. With a large team filled with researchers and analysts, Straight North puts in the necessary time and thought to get their clients top search engine spots and increased site traffic.
The second-place winner for being a top SEO firm is SEOValley. The agency has a 95 percent rating. SEOValley is loved for their focus on building relationships with their clients.
The third-place winner among the best Chicago SEO agencies is Zadro Web. The company may be a smaller agency, but it is staffed with experienced professionals who are widely respected for gathering just the right clients for their areas of expertise. They also offer web design, pay-per-click marketing and other popular web business growth strategies along with SEO.
Winning a Best Chicago SEO Agency award from 10 Best SEO is a way to prove one's standing and to show that one's company is growing measurably and is offering popular, workable results. Those who come in on the top of the list are sure to become widely recognized companies and to grow their client bases.
For more information about the July award winners, please visit http://www.10bestseo.com.