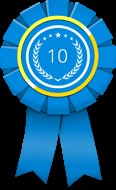 CHICAGO (PRWEB) April 23, 2019
Ranking organization 10 Best Design has selected the latest winners of its monthly award for Best Chicago Web Design Agencies. For April 2019, Solid Digital was chosen as the top contender in this category.
In a world where maintaining an innovative, information-rich website is imperative, business owners who are interested in moving ahead need to have an exemplary website design company in their corner at all times. In recognizing this principle, the professionals of 10 Best Design are pleased to provide the public with the Best Web Design Firm award. This award provides people with information regarding the best websites on the block. Read on to learn about the top three companies in the field:
One top Chicago website design company that business owners should be aware of is Solid Digital. The representatives of this savvy, sophisticated digital marketing organization excel in providing clients with high quality advertising services that enable their brands to become increasingly visible and competitive in online spaces. Being a top web design firm, At Solid Digital places primacy on the cultivation and ongoing development of top-notch websites that garner intrigue and maintain the client's attention until a purchase is made. The Solid Digital family works with diligence and dedication to optimize multiple aspects of the business owner's website, some of which may include functionality, conversion, and mobile friendliness.
Another one of the top Chicago website design companies that business owners should consider is Blue Fountain Media. The representatives of this organization are passionate about helping business owners make waves in the internet sector, and they utilize a plethora of internet marketing strategies to generate the desired outcome. As website optimization mavens, the Blue Fountain Media representatives work with patience and persistence to enhance each component of the client's business website. This includes its usability, relevance to contemporary audiences, and aesthetic appeal.
When business owners are ready to succeed in the internet sector, they should contact the professionals of blueshoon. In its role as a leading web design firm, blueshoon excels in putting together unequivocally incredible websites that will generate sustained buzz in the digital realm. Whether the corporate leader needs the site aesthetic to be updated and optimized or wants to make product pages mobile friendly, the blueshoon techies work with passion and persistence to engender the desired outcome. The end result is an incredible website that speaks to the consumer's needs and desires in a manner that consistently prompts conversion and product loyalty.
To learn more information about the winning agencies for April 2019, visit http://www.10bestdesign.com.