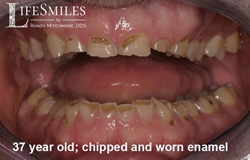 Teeth filing is hands down the worst thing a person can do
HOUSTON (PRWEB) October 06, 2020
Every year has its hot beauty trends, but the latest one to go viral has alarmed dentists across the country. In popular TikTok videos, influencers are showing their audiences how to shave down the edges of their front teeth using nail files. One of these videos has been viewed over 8.4 million times, according to the Washington Post.
"Teeth filing is hands down the worst thing a person can do," says Randy Mitchmore, DDS of LifeSmiles in Houston. "What these unsuspecting, young people making videos do not know is that filing your teeth will accelerate aging, making teeth look old, flat and will wear down enamel much faster causing serious damage in the long run."
With over forty years of dental experience, Dr. Mitchmore has seen it all - or at least he thought he had - before the teeth filing video went viral. He says normal wear and tear for the enamel is common on front teeth, particularly the lower front teeth. However, he's horrified to see young folks shaving teeth.
"Our teeth are a lot like M&Ms, protected by a thin layer of enamel, similar to the candy coating," Mitchmore continues. "They have a hard layer of white enamel, while the inside is darker and seven times softer. Once the enamel shell is worn through, the rate of wear accelerates exponentially and a worn tooth is at critical risk for damage and/or infection. Teeth shaving is dangerous and could lead to a long-list of dental problems."
Teeth filing could put a whole lot of TikTokers at risk of increased sensitivity, serious toothaches and even the loss of one or more teeth. As Dr. Mitchmore puts it, "Shaving teeth ages the enamel by a decade."
Dr. Mitchmore is on a mission to help stop this crazy, dangerous DIY teeth shaving trend. He is hoping to stop this trend before too many teeth are damaged around the world, stating, "Don't resort to teeth filing. When in doubt, ask a dentist - not a TikTok influencer - how to cosmetically enhance your teeth."
DYI dental solutions include brushing your teeth daily, flossing at least two times a day and investing in appropriate oral irrigators. DYI dental work should not include pulling teeth, shaving teeth, poking at gums or temporary filling repair kits found at your local drugstore. Folks suffering from infections, tooth loss, dental abscess or bleeding gums should consult a dentist immediately for treatment.