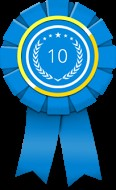 NEW YORK (PRWEB) December 21, 2018
10 Best Design recently selected the winners of its Best eCommerce Web Design awards for December 2018, giving Ruckus Marketing the top prize.
This award has significant industry implications. More and more people have developed a greater interest in purchasing goods and services through the World Wide Web over the past two decades. Doing business online, as some readers may already be familiar with, is often referred to as eCommerce. And having a solid website is a crucial part of succeeding in the world of eCommerce. Without a website that attracts users, draws them back for doing business in the future, and makes online shopping easy, businesses that do not engage in eCommerce are significantly less likely to stick out among the crowd than their better-equipped competitors.
Hence 10 Best Design's awards in this category. Every month since some point in early 2017, 10 Best Design has released lists of what it believes are the world's top contenders for the title of best eCommerce web design firm. Although the Internet is filled with tens of millions of active domain names and hundreds of millions of web pages spread across those websites, developing websites assigned to business-use domains is never an easy task. As such, 10 Best Design has done the world a favor by informing both businesses and individual, personal-use web users of what it believes are the best web design firms across the globe. Countless Internet users read these lists every month to find out which firms pump out the highest-quality work in terms of creating and crafting websites.
As usual, 10 Best Design's experts crafted and published a list of what its team members believe are the 15 top contenders for the billing of the best eCommerce website development company. This list is concurrent with 10 Best Design's selections for the month of December 2018.
Ruckus Marketing finished in first place this month for building the best eCommerce websites across the World Wide Web. Ruckus Marketing, a top eCommerce web design firm with 99% rating, employs between 10 and 50 people.
Blue Fountain Media also was ranked as one of the best eCommerce website development companies. A New York City-based company, it offers the lowest hourly billing rate of the three firms mentioned in this recap. Its rating was just one percent below Ruckus Marketing at a still-impressive 98%. Blue Fountain Media employs over 100 individuals, though is still technically a small business.
USE ALL FIVE is a top eCommerce web design firm based out of Los Angeles, California. It matched Blue Fountain Media's rating of 98% this month.
For more information about this month's winners, visit http://www.10bestdesign.com.