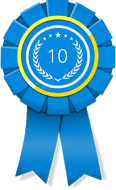 NEW YORK (PRWEB) July 27, 2018
10 Best Design has announced the winners of its Best eCommerce Web Design Firm awards for July 2018, citing the importance for modern day companies to boast a website that performs action-focused business functions. Ruckus Marketing landed in the coveted number-one spot for impeccable track record in industry, while Blue Fountain Media and DotcomWeavers also made the list.
The team at 10 Best Design understands that finding a quality web design firm is no easy task, which is why Ruckus Marketing was recognized as the best eCommerce web development agency for 2018. Not only does this agency offer value-laden products for its clients, but it boasts a reliable customer service team that is second to none in the ultra-competitive New York marketing arena. In its role as a top eCommerce web design firm, Ruckus Marketing works tirelessly to provide small business owners with everything they need to get all their goals met every day.
Blue Fountain Media is an award-winning website design organization offering brand strategy and digital marketing services to a plethora of esteemed clients in the New York metro area. For July 2018, Blue Fountain Media landed in second place on 10 Best Design's list of best eCommerce web development firms. The ranking is due to the agency's ability to help clients build mobile apps and websites tied into eCommerce sites.
DotcomWeavers is a top eCommerce web design agency that landed in the respectable third-place spot. It was recognized for being an IT company thriving on a national scale. With a home office in Paramus, New Jersey, DotcomWeavers now operates design studios in the heart of New York City and Florida, but still serves businesses that seek reliable solutions and reasonable rates.
About 10 Best Design
10 Best Design, headquartered in San Francisco, California, is made up of individuals from around the country who have worked in online branding, web design and app development for years, boasting experience in Ruby on Rails, PHP, JS, CSS, HTML and more. With additional experience in online branding and search engine optimization, the 10 Best team exhibits an uncanny ability to identify the top digital agencies and separate them from the merely mediocre ones. For more information, visit http://www.10BestDesign.com.