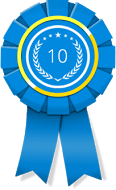 NEW YORK (PRWEB) October 25, 2018
10 Best Design is honored to present the winners of its Best eCommerce Web Design awards for October 2018, honoring Ruckus Marketing for as the premier company in this area.
Today's consumers are increasingly turning to the internet to buy things that they used to buy in person at a bricks-and-mortar retail store. Consumers buy their holiday gifts, clothing, shoes and even their groceries online. Many of them also buy their computers, electronics and games online. A company needs to have a great platform for eCommerce that inspires the consumer's trust and confidence if it is going to enjoy some of those online sales. Companies also rely on eCommerce in order to maintain a competitive edge in their market niche. In order to help business owners locate the best eCommerce web design firm, the 10 Best Design service has set up a brand-new monthly award. The 10 companies receiving honors in eCommerce are some of the best performers in this area of digital expertise.
Company owners who are looking for top eCommerce web design firms might consider working with Ruckus Marketing to enhance their website. Ruckus Marketing is known for its shopping carts that motivate the consumer to complete checking out and making the purchase. Customers can establish an account and save their information, making it easier to buy things the next time. Ruckus Marketing has attained a 99 percent customer satisfaction rating for the top-notch eCommerce services it provides.
Another company that earned a place in this new monthly awards category is Blue Fountain Media, a top eCommerce web design firm based in New York. This is a full-service web development firm, and one of its areas of expertise is eCommerce. The team at Blue Fountain Media earned a customer satisfaction rating of 98 percent for its eCommerce services. They are known for their secure checkout process, which protects the consumer's personal and financial information. Headquartered in New York City, Blue Fountain Media is a large firm with up to 250 people on its full-time staff.
One of the other companies that earned a spot in the top 10 list is DotcomWeavers. Headquartered in Paramus, New Jersey, DotcomWeavers is a leading eCommerce web design firm with up to 250 full-time web developers on its staff. The agency has earned a 97 percent customer satisfaction rating for its eCommerce services. DotcomWeaver's team of programmers is best-known for their ability to build a smooth checkout process into the eCommerce platform. Checkouts operate as smoothly as possible, ensuring that every transaction is completed.
For more information about this month's winners, please visit http://www.10bestdesign.com.