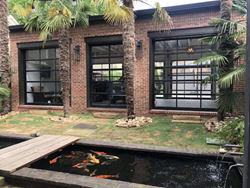 We get calls from people all over the country because of our reputation and the amount of glass garage doors we sell
ATLANTA (PRWEB) October 08, 2020
In June/July 2020 we saw a trend for modern glass garage doors. Google trends report for "Glass Garage Door" shows one of the largest spikes for searches seeking information on glass garage doors. As a leader in glass garage doors, Aaron Overhead Doors in Buford GA thinks it's only the beginning. "We've seen this trend for some time now. We're not surprised. When we first started five years ago, we would do a glass garage door every 4 - 6 months. Now we're doing a few a week." Aaron Overhead Doors is seeing these glass garage doors being sought out by architects and interior designers throughout the entire country. Ryan said "We get calls from people all over the country because of our reputation and the amount of glass garage doors we sell."
With a clean, simple appearance that still provides dazzling curb appeal, glass garage doors are a great option for upgrading your property's value. Best of all, glass garage doors are broadly customizable in terms of the glass, frame, and interior tracks. Popular glass garage door frame styles in the Atlanta market include black anodized aluminum or powder-coated frames. When customizing the full view glass exterior, our customers love tempered ⅛" or ¼" glass in clear, frosted, or tinted appearances. It's not as popular in the south but you can choose to have insulated glass.
For Atlanta homeowners, kitchens, basements, and pool houses have become fashionable locations to install a custom modern glass garage door. Available in countertop glass doors and full size options, a glass garage door adds plentiful natural light while also giving you the added perk of seamless movability. If energy efficiency is a concern for you, consider the alternative "frameless glass garage door." This is an insulated steel garage door with urethane sections and an exterior covered with dark glass. We're also seeing customers who desire a more insulated option opt for a steel insulated garage door with windows in every section.
But beyond residential, glass garage doors are also becoming increasingly popular in commercial spaces. Restaurants and breweries especially are capitalizing on this trend to open up their dining spaces and blend indoor/outdoor seating. Local bars are also interested in the added movability of countertop glass doors in place of a window. By combining smooth functionality with stunning new storefront appeal, commercial glass garage doors are revamping businesses across Atlanta.
Aaron Overhead Doors is a leader in modern glass garage doors, as well as other residential and commercial garage door projects, across Atlanta. From installation to repair to maintenance, they are a local company that takes pride in their quality garage door services. Contact Aaron Overhead Doors at 678-960-3360 for more information on glass garage doors for your Atlanta home or business.
Contact information for Aaron Overhead Doors can be found below.
Aaron Overhead Doors — 678-960-3360 — 2400 Satellite Blvd NE Suite A Buford, GA, 30518