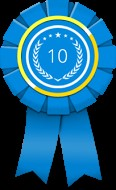 HOUSTON, Texas (PRWEB) November 28, 2018
In its latest round of monthly awards, 10 Best Design has named Chai One as the Best Houston Web Design Firms for November 2018.
Selecting the best web design firm in the Houston area is not easy, which is why the 10 Best Design service has started a brand-new monthly award for Houston companies that excel in website design services. This list highlights the 10 best companies located in the Houston metropolitan area. It can be used by an individual or business that is in need of a new website or updates to its existing one. This is a new monthly award and promises to be a great help to a wide variety of organizations.
At the top of the list of the 10 best Houston website design companies is Chai One. Chai One is a leading web design firm that employs a small staff of 10 to 50 full-time website developers. They are known for building SEO into websites. This yields an initially high SERP on Google, Bing and other search engines. Chai One consistently updates the SEO and offers ongoing site maintenance services. If clients need additional functionality, Chai One is able to add it or scale up the site to accept more traffic. Chai One has attained an excellent 99-percent satisfaction rating from its clients in Houston.
Another firm that earned a spot on the top 10 list of the best Houston website development companies is Culture Pilots. This firm has also garnered a 98-percent client satisfaction rating. The firm is small, with between 10 and 50 full-time website developers on its staff. The Culture Pilots is well-known for its ability to build secure eCommerce platforms into sites. Their eCommerce setups are easy for consumers to use. The transaction process is secure and does not take too long. This inspires the confidence of consumers who shop from the client.
A third business that has received an award as a top web design firm is Zulu Creative. This firm is small, with fewer than 10 full-time staff members who develop websites. The firm has attained a 98-percent customer satisfaction rating for its site design services. Zulu Creative specializes in the area of responsive site designs. Their designs perform ideally on all makes and models of smartphones. Images and videos load rapidly, reducing the amount of data that is required. Blocks of text load in a way that is easy to read.
For more details about the November winners in this category, visit http://www.10bestdesign.com.