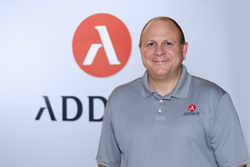 MIAMI (PRWEB) October 23, 2018
Addigy, a leading provider of cloud-based Apple device management software, today named Tom Moody to lead sales efforts for the company. Recognized for strong sales leadership, Mr. Moody has successfully led organizations, including vendors in the Apple device management space, in exceeding revenue goals throughout his career. In his new position, Tom will center his efforts on growing revenues around Addigy's innovations in Apple device management.
Tom brings more than 20 years of sales management experience, spent primarily in senior executive positions at leading technology providers. Prior to Addigy, Tom was instrumental in expanding and managing sales operations for companies that include JAMF, Code42, and Thomson Reuters, spending years cultivating relationships with Tier One enterprise accounts and growing sales volumes for the emerging technology vendors as well as established industry leaders.
Referencing his new position with Addigy, Tom said, "We have the most complete solution on the market for macOS/iOS management, backed by a management team dedicated to the success of Addigy's partner ecosystem. I am excited to join a company that has been highly praised by the industry for its focus on streamlining the remote management of these environments. Looking forward, I plan to work closely with business customers to ensure their macOS/iOS systems are optimized for enterprise-class productivity."
"We are very pleased to have Tom join our team as his experience and enthusiasm will play a key role in the company's success," said Jason Dettbarn, CEO, Addigy. "Tom understands enterprise business requirements and his ability to manage sales teams and build long-term customer partnerships will be of significant value to our organization."
Addigy Apple Device Management Platform - Free Trial
A free trial of the Addigy Apple Device Management Platform is available at https://www.addigy.com/#signup-form.
Tweet This: Top Industry Veteran Appointed as @Addigy Head of Sales - https://bit.ly/2Bu9DCX
Resources:

About Addigy
Addigy helps system administrators take control of their IT environments with the industry's most comprehensive cloud-based platform for Unified Apple Device Management. Addigy simplifies and streamlines the IT management of Apple devices with asset management, monitoring, reporting, remote command execution, customer and user management, real-time communications, and more. Contact Addigy at +1 305-330-6677 or visit http://www.addigy.com.
###
Contact Addigy
Call +1 305-330-6677 or email sales(at)addigy.com