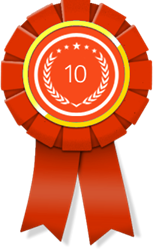 LOS ANGELES (PRWEB) August 29, 2018
10 Best SEO recently selected the winners of its Best LA SEO Firm awards for August 2018, giving Directive Consulting the top prize.
When the owner of a company or an entrepreneur realizes that his or her website is in need of updating and improvements, it is always best to work with a local firm that is a best SEO agency. Finding the right team to put a search engine optimization campaign in place could be a time-consuming endeavor, which is why the 10 Best SEO service has implemented a brand-new monthly award. This new monthly award for the best LA SEO firm helps business owners save time and money.
The leader in LA search engine optimization agencies is Directive Consulting. This company is headquartered in Orange County, just outside of the Los Angeles city limits. It is not surprising that the company topped the list of best LA SEO firms. With a staff of 10 to 50 employees, the firm can take on large projects, extended marketing campaigns or multiple campaigns at the same time. Directive Consulting also has a 99 percent client satisfaction rating, and that high rating is a direct result of the firm's ability to use back links and meta tags behind the scenes, where they do not affect site content.
Another firm that business owners in the LA area may want to consider for their marketing needs is Rank Lab, a leading SEO agency with a staff of fewer than 10 people. For this reason, customers of Rank Lab receive a personalized, one-on-one type of experience. The team at Rank Lab is fully invested in the successes of their clients. The firm is located in Santa Monica, making it a convenient place for LA business owners to drive to. Rank Lab will also go to clients at their office locations if the client prefers to be on their home turf. The firm has a 99 percent customer satisfaction rating.
A third firm that made the list of the ten best SEO firms in the LA area is Websites Depot, a leading SEO firm located in the heart of Los Angeles. The company has between 10 and 50 people work at the firm on a full-time or part-time basis. This company has a 99 percent customer satisfaction rating, which makes it a natural choice for business owners who are new to SEO services. Websites Depot is able to set itself apart from the competition thanks to its excellent work in integration of images and videos with SEO-based tags.
To learn more about this month's winners, please visit http://www.10bestseo.com.