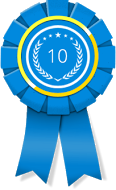 LOS ANGELES (PRWEB) September 27, 2018
Reputable awards organization, 10 Best Design has announced its September award for the best web design firms in Los Angeles. Spinx Digital emerged at the top of the list of this month's contenders.
When a company is in search of the top LA web design firm, there are a lot of options to sort through. Comparing and contrasting the different services and features of all of the firms could be extremely time consuming. Most CEOs and marketing managers simply do not have that kind of time in their schedules. Even so, the selection of the leading LA web design firm is an important and worthy task. One of the ways to get around the time crunch is to refer to the best web design firm list established by the 10 Best Design service. On this website, any business owner can peruse the top performers for web designers in the Los Angeles area. This is a new monthly award established by the 10 Best Design company.
Leading the list of top LA web design firms is Spinx Digital. Although this firm has fewer than 50 people on its staff, it has attained a 99-percent satisfaction rating from businesses that have used their web development services. Satisfied customers often come back to Spinx Digital when they want new features added to the site. Spinx Digital excels in the area of ecommerce design and the Enterprise platform. Their sites are modern, easy on the eyes of the viewers and secure.
Another firm that has attained a top ranking for the best LA web design firm is EIGHT25MEDIA. This firm offers a plethora of digital services. The staff does it all, from designing a site that is responsive to mobile devices and different types of operating systems to setting up platforms for ecommerce. The services offered by the staff can include SEO and SEM for a high-performance website that will draw in a wide audience of interested consumers.
Blue Fountain Media a leading web design firm that is located on Madison Avenue in New York City. However, it also maintains offices in Los Angeles. Blue Fountain comprehends what is trending and what is outdated, which allows it to excel at creating a digital strategy. The company has a team of several hundred professionals who know how to build impressive, attention-getting websites. Major clients of Blue Fountain include NASA, P&G, the NFL and Harper Collins.
To learn more about this month's award winners, visit http://www.10bestdesign.com.