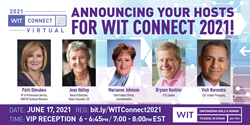 "I've been engaged in supporting WIT for 18 years and it is amazing to me the outcomes that are achieved through the engagement that WIT has. I find the work that WIT does is powerful. Every program, every event is tied to helping women grow and live their best," Bryson Koehler, CTO at Equifax
ATLANTA (PRWEB) May 19, 2021
This impressive list includes: Patti Dismukes, Vice President of Professional Services, HUNTER Technical Resources; Jean Holley, Board of Directors, Senior Executive, CIO; Marianne Johnson, EVP & Chief Product Officer, Cox Automotive; Bryson Koehler, CTO, Equifax; Vish Narendra, CIO, Graphic Packaging International.
"WIT raised the bar last year with the virtual WIT Connect event. It was informative, entertaining and impactful," says Patti Dismukes, Vice President of Professional Services at HUNTER Technical Resources and WIT Board President. "A lot has happened for the WIT Community since then, so I'm excited to hear about the successes and plans for the future! I'm proud to be part of an organization that supports women and helps to drive change."
"I've been engaged in supporting WIT for 18 years and it is amazing to me the outcomes that are achieved through the engagement that WIT has", says Bryson Koehler, Chief Technology Officer at Equifax. "I find the work that WIT does is powerful. Every program, every event is tied to helping women grow and live their best. Their Single Mothers' Program is one of a kind and is not only helping underserved single mothers in Georgia improve their lives, but it also improving the lives of their children. I'm honored to say that Equifax hired 5 women in Technology and Security from their inaugural class. I strongly believe in everything WIT is doing."
Since its inception, WIT Connect has gathered nearly 900 of Atlanta's top executives to raise more than $3.5 million to support the development of young girls and the advancement of women in science, technology, engineering, arts and math (STEAM).
Each year, before the program, WIT hosts a special VIP Reception for invited WIT Connect guests and C-Suite executives participating in the Executive Auction Experience. This year the VIP Networking reception will be held virtually.
Philanthropy:
The premier fundraising and networking event includes a unique executive auction experience which allows individuals to compete for exclusive time with top Atlanta C-Suite executives. Proceeds from the executive auction support WIT Girls and Campus – WIT's free educational programs for girls and young women. Music, silent auction, an exclusive VIP virtual networking reception and a celebration of our 2021 scholarship recipients round out the festivities for this special event.
For more information, visit https://bit.ly/WITConnect2021
Sponsorships:
WIT Connect sponsors support the next generation of female leaders in STEAM and enjoy access to a community of esteemed technology leaders through a variety of benefits. Several sponsorship packages are currently available, including:
Gold Sponsor: $10,000
Silver Sponsor: $6,500
Bronze Sponsor: $3,000
To purchase a sponsorship, contact Penny Collins at penny@mywit.org or by phone 470-264-1782.
About Women In Technology
Women in Technology (WIT) empowers girls and women to excel in science, technology, engineering, the arts, and math (STEAM) from the classroom to the boardroom. We do this by providing female students in middle school, high school, and college with education, exposure and experience. By sharing the stories of successful professionals across the STEAM fields, we encourage all generations of girls and women to write their future. Today, WIT has over 18,000 members in Georgia, 48,000 members worldwide and our team of more than 250 volunteers deliver professional development and networking opportunities to each of our professionals and programs at no charge to more than 3,000 students. WIT is a 501(c)(3) non-profit organization and we are committed to making Georgia the state with the highest percentage of women in the STEAM workforce by partnering with our community to provide opportunities that champion women throughout their education and career.