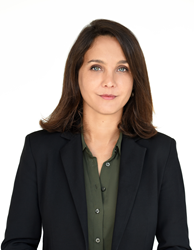 We are very excited to have Johanna join our corporate team in our Los Angeles office. Our Los Angeles corporate practice has been growing rapidly since the launch of our LA office and we are fortunate to have Johanna's legal talent on our team
LOS ANGELES (PRWEB) October 20, 2021
Structure Law Group, LLP is pleased to announce the newest member of their Los Angeles corporate legal team, Johanna Monon. "We are very excited to have Johanna join our corporate team in our Los Angeles office. Our Los Angeles corporate practice has been growing rapidly since the launch of our LA office and we are fortunate to have Johanna's legal talent on our team," said SLG attorney, Michael Saryan.
Ms. Monon has several years of corporate and business law experience. Ms. Monon's practice broadly encompasses all aspects of corporate and business law with a focus on business formation, entity restructuring, corporate governance and compliance, private securities offerings, equity financings and mergers and acquisitions. Ms. Monon also handles commercial and real estate transactions and advises companies on general business matters. Ms. Monon received her J.D. from Pepperdine University School of Law.
Prior to joining Structure Law Group, LLP, Ms. Monon was a practicing attorney for over six years at a Los Angeles business law firm where she practiced business law, real estate law, and business litigation, where she focused on SEC filings, FINRA compliance, and servicing private equity funds. While in law school, she interned for the California Department of Corporations enforcing state securities regulations.
Ms. Monon can be reached at:
jmonon@structurelaw.com or (310) 818-7500
About Structure Law Group, LLP
Structure Law Group, LLP is a Los Angeles business law firm with a national and international practice that provides legal services to companies of all sizes as well as individual entrepreneurs. SLG assists clients in all areas of business law including start-ups and financing, business litigation, merger and acquisitions, employment law, intellectual property, debtor and creditor rights and commercial real estate. SLG is a dedicated team of legal professionals who have a solid understanding of companies of all sizes as well as businesses and entrepreneurs. SLG is committed to providing an exceptional client experience through innovative and cost-effective legal services and solutions.
Practice areas include:

Blockchain & Cryptocurrency
Business Transactions
Business Litigation
Construction Contracting & Payment Claims
Corporations
Debtor & Creditor Rights
E-Commerce
Employment
Immigration EB-5 Fraud Litigation
Limited Liability Companies
Mergers & Acquisitions
Partnerships
Real Estate
Start-ups & Financing
Technology Licensing & Protection of Intellectual Property
For more information about the firm please go to http://www.structurelaw.com, visit our blog at http://www.sanjosebusinesslawyersblog.com or contact us as shown below:
Krystle Warren
Structure Law Group, LLP
(408) 441-7500
kwarren@structurelaw.com
http://www.structurelaw.com