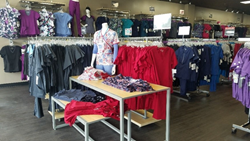 UA has continued to reinvest into their retail stores to provide an organized and positive shopping experience for customers
FORT LAUDERDALE, Fla. (PRWEB) August 22, 2018
Uniform Advantage (UA), a multi-channel retailer of scrub uniforms and accessories for healthcare and hospitality industries recently relocated and remodeled their Greendale, Wisconsin location. Uniform Advantage has continued to reinvest into their retail stores to provide an organized and positive shopping experience for customers whether they shop in-store or online.
The Greendale, Wisconsin UA scrub store has relocated to a new space in West Allis. This store is now located on Highway 100 and National in West Allis, right next door to Target. Uniform Advantage is projected to progress with more store moves and remodel projects throughout the year to continue to provide excellent customer experiences.
Lori Nadeau-Dunlap, Vice President of Marketing at Uniform Advantage commented on the store moves, "We made it one of our goals to enhance the shopping experience for all of our customers, and with that in mind, we decided to relocate to a beautiful new location in West Allis."
For more information on Uniform Advantage retail stores or to find a store near you please visit http://www.uastores.com/.
About Uniform Advantage
Uniform Advantage has represented style, quality and, above all, customer satisfaction for more than 30 years. As the first division of UA Brands, the chain was launched with a single South Florida store in 1985. Today, the company operates 29 retail locations in key markets across the U.S.; e-commerce and print catalog divisions; plus, designs and manufactures its own proprietary healthcare apparel lines. The company's corporate office is based in Fort Lauderdale, Florida with a distribution center near Atlanta, Georgia. Learn more at http://www.UniformAdvantage.com or by calling 800-283-8708.