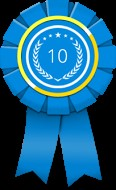 NEW YORK (PRWEB) September 19, 2019
10 Best Design, the leading source of web design company reviews, has a new monthly list: the 10 Top New York Website Development Company list. The top three award winners in this category are Ruckus Marketing, Lounge Lizard and Dotlogics.
Organizations that need a New York City web design firm should check out 10 Best Design's up-to-date rankings to find the best firm to suit their needs. The top three winners, which are described below, are prime examples of the kind of web design and development firms that 10 Best Design considers to be exceptional.
As the best web design agency, Ruckus Marketing is the place to go for brands that want an expertly crafted disruptive digital presence with an intuitive UX/UI design. Their website designs catch consumers' attention. Ruckus believes great website designs are not only more engaging, but they bring a brand's message into focus. This NYC web design firm excels at branding and revamping existing websites to reflect the new brand. Additionally, Ruckus Marketing provides exceptional websites even on a tight deadline.
Lounge Lizard's design and development experts build distinctive custom websites using content management systems, including WordPress, Magento, Shopify and Joomla. Consistent with its reputation as a leading web design agency, Lounge Lizard creates e-commerce designs that are eye-catching, intuitive and they function perfectly. Every site the New York web design firm builds is responsive and adapts to the visitor's screen size. Lounge Lizard also redesigns existing websites for clients who want a drastic change in their site's function and appearance to meet the needs of today's consumers.
Dotlogics is also one of the top New York website development companies honored with an award in August. The Manhattan firm provides responsive, data-driven websites that help clients make more sales. Sites built by the NYC web design firm have the perfect balance between aesthetics and function. Clients can see their website being built in front of their eyes on Dotlogics' demo platform. The NYC web design company believes creating a website is a collaborative process and encourages clients to offer valuable feedback. Dotlogics sites are fast-loading, mobile friendly revenue-generating machines.
Organizations looking for a new website design can count on 10 Best to bring them the best options in NYC each month. For more information about the winning companies for August, visit http://www.10bestdesign.com.