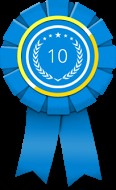 NEW YORK (PRWEB) November 29, 2018
10 Best Design has chosen the November 2018 winners of its Best New York Web Design award, with Ruckus Marketing named as the industry's premier company.
This award is significant due to how important web design is to operating a successful business. Very few profitable businesses have absolutely zero web presence. Unless a business has already built up a substantial customer base from operating for several years or even decades, new businesses almost certainly need high-quality websites, search engine results for multiple keywords with businesses' websites finishing above the fold, active social media profiles, and digital marketing communication through email and multiple other channels, not to mention anything else they can build.
Websites are arguably the most important digital platform that businesses stand on. Without solid search engine performance, on-page flow, responsive website design that adapts to all devices, and fast loading times, business websites effectively scare potential customers away.
Building websites from scratch is hard. Getting domains from WordPress is easy, though its layout resembles far too many other not-so-great websites due to WordPress' widespread use. To stick out, most businesses are best off contracting the services of what firms could be included in the running for the best web design firm in their local area or region.
Unfortunately, figuring out what businesses are hot and which ones are not can be difficult. Online reviews can largely be faked, the number of likes on web design companies' social media pages can be purchased to artificially inflate the volume, and word of mouth is not empirical. However, 10 Best Design's awards address these issues.
Based in San Francisco, California, 10 Best Design is a directory of the World Wide Web's most popular, valuable website creators. Its staff consists of computer and Internet experts from fields far and wide, including back-end coding, online branding, app development, and, of course, web design.
Every month, 10 Best Design puts out a new list of what the best web design firms are. Following is a description of the top three New York City firms for November 2018.
Ruckus Marketing, a leading web design firm in Manhattan, took the top position of honor with the November awards. Mentioned on the likes of CBS, CNN, Saturday Night Live, and the Wall Street Journal, Ruckus Marketing has quite a resume for its competitors to stack up against.
Blue Fountain Media, a staple on 10 Best Design's list of the best web design firms in New York City, came in second. Its prices are noticeably more affordable than most of its Big Apple-based counterparts, consistently charging bargains for its work.
Fantasy, a new name on most of 10 Best Design's lists, came in third place. With more than 250 employees, Fantasy is a leading web design firm that is based in the heart of the Big Apple.
For more information about this month's award winners, visit http://www.10bestdesign.com.