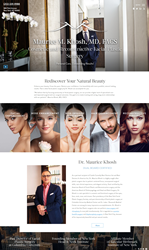 I am honored that my colleagues have once again chosen me for inclusion on this prestigious list as a 2019 Best Doctor. It is a testament to my mission to provide my patients with high-quality care and excellence in facial plastic surgery, says Dr. Maurice Khosh
NEW YORK (PRWEB) November 12, 2019
Each year, the Best Doctors in America organization awards a limited number of physicians with the honor of being selected as a Best Doctor. As the largest ongoing, peer-reviewed poll in the medical industry, the list is based on surveys of more than 53,000 medical experts in over 450 specialties and subspecialties worldwide. Dr. Maurice Khosh has been selected for this honor by his peers as a result of his extensive knowledge, artistic talent and exceptional skill in advanced facial plastic surgery. Dr. Khosh represents approximately 4% of U.S. doctors as a 2019 Best Doctor.
Dr. Maurice Khosh carries a unique set of dual board certifications in facial plastic surgery and ENT surgery. He is a highly respected plastic surgeon who has earned multiple prestigious awards for his advanced technique and beautiful, natural-looking results in cosmetic procedures, such as facelifts, rhinoplasty and blepharoplasty. Additionally, Dr. Khosh offers a wide range of reconstructive procedures to address functional, trauma or cancer-related defects of the face, nose and scalp. Dr. Khosh is also nationally recognized for his training and specialization in treating breathing issues during rhinoplasty. Beyond plastic surgery procedures, Dr. Khosh offers a full menu of non-invasive services, including rejuvenation treatments for the eyes, cheeks, lips and neck.
"I am honored that my colleagues have once again chosen me for inclusion on this prestigious list as a 2019 Best Doctor. It is a testament to my mission to provide my patients with high-quality care and excellence in facial plastic surgery," says Dr. Maurice Khosh
More About Dr. Maurice Khosh:
Dr. Maurice Khosh is a nationally recognized, dual board certified facial plastic surgeon practicing in Manhattan, NY. He has had a continued appearance on Castle Connolly's Top Doctor™ list and has been the recipient of the Patients' Choice Award. Dr. Khosh was also chosen as a 2019 Top Patient Rated NYC Plastic Surgeon by Find Local Doctors. He is the past president of the NY Facial Plastic Surgery Society, the director of facial plastic surgery service at Mt. Sinai West in NYC and the former director of facial plastic surgery at Columbia University. Dr. Maurice Khosh's dedication and expertise in his field have made him one of the top plastic and reconstructive surgeons in the country.
For more information on the services offered by Dr. Khosh, visit his website at http://www.facedoctornyc.com, or contact his office in Manhattan directly at (212) 339-9988.