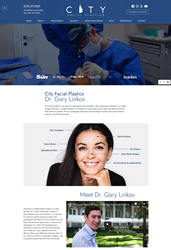 It is such an honor to be included with so many talented colleagues as a Marquis Who's Who Top Doctor. As a plastic surgeon, I consider it a privilege to provide my patients with personalized options and exceptional care to help them achieve the best results, says Dr. Gary Linkov
NEW YORK (PRWEB) October 24, 2019
Dr. Gary Linkov is among a select group of medical professionals chosen through a comprehensive process, including an assessment of their years of practice, contributions and a thorough interview, to be approved for inclusion as a Marquis Who's Who Top Doctor. Dr. Linkov is a well-respected, dual Ivy League-educated NYC facial plastic surgeon. He graduated as salutatorian from Cornell University, with a degree in psychology. During medical school at Columbia University, College of Physicians and Surgeons, he performed advanced head and neck cancer research at the world-renowned Memorial Sloan Kettering Cancer Center. Dr. Linkov was also involved in the school's Smile Train chapter, helping children with cleft lips and palates. He finished his residency in head and neck surgery at the Temple Head and Neck Institute in Philadelphia, serving as chief resident in his final year. Dr. Linkov then completed an accredited American Academy of Facial Plastic and Reconstructive Surgery fellowship at Washington University in St. Louis, serving as a clinical instructor. As a medical researcher, Dr. Linkov has written numerous publications, impacting the fields of head and neck cancer, tissue engineering and facial plastic surgery.
Dr. Gary Linkov stays on the cutting-edge of his field, using his skills and artistic talent to provide a broad spectrum of services at his state-of-the-art practice, City Facial Plastics, in New York City. Dr. Linkov is known for providing superior outcomes for his patients. His services include advanced facelifts, rhinoplasty, eyelid surgery, hair transplantation, Botox and more, using minimally invasive techniques for natural-looking results. In addition to running his successful practice, Dr. Linkov lends his expertise to RealSelf.com as their medical reviewer on lip lift procedures. He also is a member of the Haute Beauty network, providing his knowledge in facial plastic surgery and has been recognized by Find Local Doctors as a 2019 Top Patient Rated Doctor.
"It is such an honor to be included with so many talented colleagues as a Marquis Who's Who Top Doctor. As a plastic surgeon, I consider it a privilege to provide my patients with personalized options and exceptional care to help them achieve the best results," says Dr. Gary Linkov
About Marquis Who's Who
Since 1899, when A. N. Marquis printed the first edition of Who's Who in America®, Marquis Who's Who has chronicled the lives of the most accomplished individuals and innovators from every significant field, including politics, business, medicine, law, education, art, religion and entertainment. Marquis® publications may be visited on the official Marquis Who's Who website at http://www.marquiswhoswho.com.
Dr. Gary Linkov and his City Facial Plastics team are located at 635 Madison Ave #1402 E in New York City. To learn more about Dr. Linkov and City Facial Plastics, please visit http://www.cityfacialplastics.com or by calling (929) 377-7869.