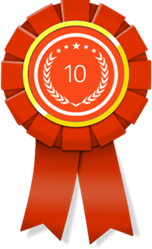 NEW YORK (PRWEB) April 25, 2019
Awards organization 10 Best SEO has selected the latest winners of its monthly award for Best NYC SEO Agency. For April 2019, Straight North and PBJ Marketing were chosen as the top honorees in this category.
Choosing the right search engine optimization (SEO) business is important. Some SEO providers prefer to work around a particular niche, such as legal or medical SEO. Others offer local SEO, which is ideal for small businesses. Some offer global SEO, which helps a company get noticed all over the country and even around the world. In some cases, a business owner might not be sure of what type of SEO campaign they want. That is when it pays to find an experienced firm that can hone the details of the campaign in order to deliver measurable results that are affordable to the client. However, the best SEO agency for one company might be different for another company. It is always a good plan to make sure that the agency designing the SEO and monitoring its results over time fits the needs of the business. One way to narrow down all of the options is to refer to the monthly 10 best SEO list. This is a free list and includes the agency's statistics. Here are the winners for April 2019.
Consider Straight North, which earned the number one spot this month. Straight North is a large marketing firm that excels at all SEO services. Therefore, it is not surprising that it stands out among the top NYC SEO agencies.
Another great-performing, top NYC SEO agency is PBJ Marketing. This firm is known for its work at taking a site with a drop in traffic and turning its situation around. Google's algorithms change every couple of months, and some sites see a big and sudden drop in traffic as a result. PBJ Marketing fixes it.
This month's top 10 list also includes leading SEO agency Youth Noise. This agency has a staff of professionals who enjoy making use of technology. They use a wide variety of analytical tools in order to sort out which trending key phrases consumers are likely to use when searching for the types of products or services offered by their clients. They implement these phrases in the content, links, URLs and tags.
This is a brand-new monthly award offered by the 10 Best SEO listing service. Any company owner in search of the top NYC SEO agency should check it out each month. This list gets updated around the first day of each month all year long.
To learn more information about the winning agencies for April 2019, visit http://www.10bestseo.com.