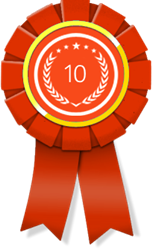 NEW YORK (PRWEB) June 24, 2019
10 Best SEO recently announced the winners of the Best NYC SEO Agency awards, which is a new monthly award. The top three winners for June 2019 are Straight North, SEO Brand and PBJ Marketing.
By honoring online marketers who have excelled in the field of search engine optimization, 10 Best SEO provides all agencies to aspire to greatness. Moreover, the awards can provide guidance to businesses that need to find the best available professional SEO support.
Amidst strong competition, Straight North, a results-driven digital marketing agency, received top honors as the best NYC SEO agency. The firm offers a free instant SEO audit that website owners can use to become familiar with SEO. Afterward, they have the option to contact the firm and request a custom quote for services.
As a leading SEO agency, Straight North offers numerous online marketing services, including PPC management, display advertising, custom website development and graphic design. The firm also supports the business community with consulting and strategy services, including Google penalty recovery.
Another a top SEO agency, SEO Brand captured the second-place position in 10 Best SEO's list. The firm uses personalized services, close client relationships and innovative strategies to help businesses crush their competition.
As is the case with Straight North, SEO Brand's expertise extends beyond SEO. For instance, the company provides clients with custom web and mobile application development, print design and full-service branding and identity support. The agency also offers other digital services such as public relations, reputation management and paid advertising administration.
PBJ Marketing, a top SEO agency ranked in the third place in this month's awards, is another full-service digital marketing agency. Although the firm was awarded for providing excellent SEO services, the company's also known for its paid media, brand strategy, and web development expertise.
In addition to building a robust client portfolio, PBJ Marketing has also earned credentials as a Google and Bing partner. The firm also has a partnership with MailChimp and has earned prestige as a Salesforce consulting partner. PBJ Marketing is making great strides as one of the industry's top NYC SEO agencies.
To earn recognition as a superior provider of SEO services, agencies must demonstrate to 10 Best SEO competency in multiple areas, including link acquisition, keyword targeting, and conversion optimization. Only well-regarded digital marketing companies receive consideration for the 10 Best SEO awards.
For more information about the award winners for the month of June, visit http://www.10bestseo.com.