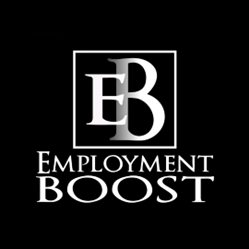 "During stressful and tumultuous times, like finding a new job in the midst of a global pandemic, people often want to speak to other human beings for guidance and advice. Automation isn't always the answer."
CHICAGO (PRWEB) October 26, 2020
At the peak of this year's crisis, more than 22 million jobs were lost, and we've only been able to regain a little more than half of those jobs as the economy struggles to recover. As a result, companies large and small have had to make difficult decisions around laying off and furloughing employees just to survive.
Designed to provide comprehensive career services support to laid off employees and job seekers, Employment BOOST Outplacement Services are the only truly human-focused and high-touch outplacement services on the market. In an industry addicted to scale through automation, Employment BOOST offers a white-glove service to outplacement recipients, pairing Certified Professional Resume Writers (CPRWs) and Career Coaches in one-on-one settings to make sure the stress of the job transition is eased and every question in answered in a tailored, customized manner.
"Layoffs are never easy – not for the individuals affected or for the organization itself," said William Ratliff, Senior Career Services Manager at Employment BOOST. "2020 has really solidified the value of our human-focused approach to outplacement services for our clients. During stressful and tumultuous times, like finding a new job in the midst of a global pandemic, people often want to speak to other human beings for guidance and advice. Automation isn't always the answer."
The summer has been busy for Employment BOOST Outplacement with hundreds of individuals onboarded into an outplacement program courtesy of their former employers.
"The need for comprehensive support after a layoff cannot be understated," said Steve Fox, Director of Sales at Employment BOOST. "Losing your job can be traumatic. Our team is skilled and experienced at easing that transition. The white-glove, human-focused approach we employ is proven to reduce the stress of layoffs by helping individuals handle everything necessary for a job search, planning a pragmatic job search strategy, and making sure individuals capitalize on the opportunities in the market."
What is a human-focused approach to outplacement services? One that delivers services and coaching customized to the affected individual – nothing automated. Recipients of Employment BOOST's Top Rated Outplacement Services receive professionally written resumes, cover letters, thank you letters, LinkedIn profiles, in addition to one-on-one career coaching, job search advice, and mock interview training.
About Employment BOOST:
Employment BOOST is a Troy, Michigan and Chicago, Illinois based company that provides outplacement services, professional resume writing services and critiquing, executive resume services, cover letter development, resume distribution, social media profile creation, and interview coaching to job seekers across the nation. For more than a decade, Employment BOOST has consistently been helping people achieve career satisfaction. Employment BOOST uses talented industry experts to tailor resumes to the key content that hiring managers seek. For more information on Employment BOOST, please call 888-468-6495 or visit http://employmentboost.com.