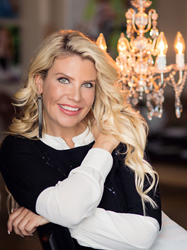 HARTFORD, Conn. (PRWEB) January 09, 2023
Two Sotheby's International Realty affiliate firms within the preeminent luxury real estate brand's global network today welcomed top producing real estate agent Dana Flanagan, serving markets in both Connecticut and South Florida. Flanagan will work with William Pitt Sotheby's International Realty in Connecticut, operating out of the firm's Hartford County brokerage, and with ONE Sotheby's International Realty in Florida, operating out of the company's Fort Lauderdale brokerage.
Formerly associated with Nest Seekers, Flanagan brings over 20 years of real estate expertise, closing approximately $35 million in total dollar volume and over 85 home sales annually. Specializing in properties across all price points, she is equally hands-on with her business in both Connecticut and Fort Lauderdale, Fla., along with surrounding communities including Palm Beach and Miami. She lives and works in both parts of the country, splitting her time evenly to ensure her full attention to each region.
Flanagan brings connections that extend well beyond these markets, spanning the country as well as the globe. She is a President of International Real Estate with Wall Street Luxury, a concierge service for ultra-high net worth clients that delivers luxury real estate opportunities, marketing solutions, and vacation and destination experiences. Most recently, she drew upon the service to facilitate the listing of properties at a golf resort in the Caribbean.
She also commands a significant presence across multiple far-reaching media platforms from television to social media. She is a host and producer with several lifestyle and real estate TV shows airing nationally, including American Dream TV, A Taste of Winter and Dining Divas, and her listings have attracted the attention of HGTV's House Hunters. On Instagram, a platform where she has found great success building relationships in markets around the country and presenting her listings to a wide and relevant audience, she has over 140,000 followers.
"I am thrilled to be working now with the exceptional Sotheby's International Realty affiliates serving Connecticut and South Florida," said Dana Flanagan. "This luxury brand, one of the most recognizable names in real estate, is an ideal fit for me. Our new affiliation will provide me with many more opportunities for collaboration and expanding my network nationally and internationally to the great benefit of my clients."
"Dana is an experienced, detail-oriented and passionate sales associate who cares deeply about her clients," said Alex Ohlandt, brokerage manager for William Pitt Sotheby's International Realty in Hartford County, Conn. "She is skilled in the art of making connections and delivers excellent, personalized service and results. I am so excited to welcome her to our team."
Flanagan will be joined in her move by two additional sales associates who will partner with her and help support her buyers and sellers: Ryan De Lello, an experienced agent with a strong track record in sales in Connecticut, and Jessica Nevin, a dually licensed agent in New York and Florida who now calls Fort Lauderdale home and brings a background in recruiting and leasing.
"This collaboration is a testament to the unmatched global network of Sotheby's International Realty, with a footprint that reaches down the block and around the world," said Daniel de la Vega, president of ONE Sotheby's International Realty. "We are proud to welcome Dana and look forward to the incredible contributions she will bring to the table."
Flanagan has appeared in REAL Trends' prestigious annual agent rankings including The
Thousand, naming the Top 1,000 agents in the United States, and America's Best, representing the top 1.49 percent of all real estate professionals in the nation.
Born and raised in Connecticut, she spends her personal time enjoying outdoor sporting activities from golfing, wakesurfing and wakeboarding in the summer to skiing in the winter.
ABOUT WILLIAM PITT - JULIA B. FEE SOTHEBY'S INTERNATIONAL REALTY
Founded in 1949, William Pitt - Julia B. Fee Sotheby's International Realty manages a $7 billion portfolio with more than 1,100 sales associates in 27 brokerages spanning Connecticut, Massachusetts, and Westchester County, New York. William Pitt - Julia B. Fee Sotheby's International Realty is one of the largest Sotheby's International Realty(R) affiliates globally and the 37th-largest real estate company by sales volume in the United States. For more information, visit the website at williampitt.com.
ABOUT ONE SOTHEBY'S INTERNATIONAL REALTY
ONE Sotheby's International Realty is the premier source for luxury real estate and development opportunities along Florida's East Coast, with 28 offices spanning from Miami and Key Biscayne to Vero Beach and Jacksonville. For more than 250 years, the Sotheby's name has exemplified the promise of a life well lived, and ONE Sotheby's International Realty's direct affiliation with Sotheby's and Sotheby's International Realty has offered the company unparalleled, global reach with a network of more than 24,000 associates in more than 81 countries and territories with more than 1,000 offices. The firm's Development Division is a leader in luxury pre-construction sales and marketing along Florida's East Coast, offering an insider perspective and superior market intelligence to help partners navigate the unique real estate landscape from pre-acquisition to sell-out. onesothebysrealty.com
Sotheby's International Realty's worldwide network includes 1,000 offices throughout 79 countries and territories on six continents.