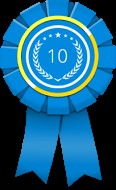 PHILADELPHIA (PRWEB) November 27, 2018
10 Best Design is excited to present the winners of its Best Philly Web Design awards for November 2018, selecting Eastern Standard as the leader in this category.
Philadelphia is one of the largest internet connected cities in the Western Hemisphere, so it is no surprise that web design agencies are saturated in the area. Branding is everything, which is why most companies specialize in both design and marketing. Luckily, sorting through such a long list of companies is now easy thanks to the new monthly list curated by 10 Best Design.
The agency that is chosen as the Best Philly Web Development Company will reap the benefits of a larger customer base. Since most web surfers tend to choose only the first few companies on a list, there is certainly a demand for competition to quality. This list is not only based on design capabilities, but also the impression left by customer reviews.
Eastern Standard is a top web design agency that has an in-house brand and graphic design team. As companies need creative web applications and branding to keep up with clients' demands, this agency has stepped up their game to fulfill them. Not only do they make an aesthetically-pleasing website, but customer experience and functionality are also key objectives. Companies can review their portfolio to see how they gave complete face-lifts to local businesses with little web branding.
Direct Line is a web design and SEO firm that has helped countless companies establish a web presence. Their in-house team of programmers creates amazing products from scratch so that each client will have a unique creation to increase sales leads more than ever. This is a major part of the reason why Direct Line was selected as one of the best web design firms for November. They create websites with long-term engagement in mind so that their brand will not go sour for quite a while. In addition to their Philadelphia office, they have also expanded to Denver.
Though smaller and under-appreciated firm, Durkan Group was also a formidable contender for this month's award. As a leading web design firm, Durkan Group focuses on individual attention for clients, and they always have end results in mind. They serve both clients in Philadelphia and internationally.
After reviewing the new monthly list by 10 Best Design, business owners should be sure to review each of their portfolios carefully. As each company has their own set of experience, one may find that even a web design firm toward the bottom will fulfill their needs appropriately.
For more details about the November winners in this category, visit http://www.10bestdesign.com.