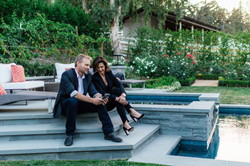 Side is the only real estate brokerage that transforms agents and teams into true businesses, and we're extremely happy with our decision to partner with them to deliver a break-the-mold, non-traditional brand
SAN FRANCISCO (PRWEB) November 17, 2020
Top producing luxury agents Dana Olmes and Jeffery Biebuyck today announced the debut of Frontgate Real Estate, a new premier luxury real estate firm, launched in partnership with Side, the only real estate technology brokerage platform designed to exclusively partner with high-performing agents, teams and independent brokerages to transform them into boutique brands and businesses. Servicing the greater Los Angeles market, specifically Hidden Hills and surrounding upscale neighborhoods, Frontgate's high-touch, high-tech, and service-minded team is dedicated to meeting the unique needs of ultra-high-net-worth buyers and sellers across Southern California. With a combined 45 years of experience and over USD 1 billion in sales, Frontgate Real Estate is positioned to become a powerhouse brand in Los Angeles' exclusive luxury real estate market.
"After 15 years of working together, it was time to personify the brand that we had unintentionally created together," said Biebuyck, co-founder of Frontgate Real Estate. "In order to take our business to the next level, we needed to look outside the box of what traditional brokerages offer and partner with a company that actually supports this model. Side is the only real estate brokerage that transforms agents and teams into true businesses, and we're extremely happy with our decision to partner with them to deliver a break-the- mold, non-traditional brand."
In partnering with Side, Frontgate will be fully supported by Side's one-of-a-kind premium brokerage platform handling all of the brand's transaction management, property marketing, lead generation, business growth opportunities, vendor management, infrastructure solutions and more. This strategic partnership will allow Frontgate to stay true to its core values in delivering the highest level of personalized service to its prominent roster of affluent clients.
In 2019, Olmes and Biebuyck were part of a team exclusively invited to the "Exclusive Referral Group to The World's Best Realtors," made up of an elite network with nationally recognized industry leaders. Ranking among the top one percent of agents in the country, Olmes and Biebuyck have cultivated an impressive clientele representing notable celebrities, attorneys, entertainment and corporate industry executives and more. Current real estate listings are located in affluent and emerging areas of Los Angeles including Hidden Hills, Calabasas, Agoura Hills, Westlake Village, Malibu and the Westside.
"We are honored to partner with two of the country's top-producing agents and a top 50 real estate team," says Guy Gal, Side CEO and co-founder. "Dana and Jeffery have built an impressive reputation specializing in the luxury real estate market working with ultra-high-net-worth buyers and sellers. They are already the leading agents in their market, and we are excited to help them establish Frontgate as the leading boutique luxury brand in Hidden Hills and the surrounding communities."
Side is led by experienced industry professionals and world-class engineers who develop technology designed to improve agent productivity and enhance the client experience. Based on its belief that homeownership is a fundamental human right, Side exists with a mission to improve the public good by providing top-performing real estate agents, teams and independent brokerages with the best system, support, service, experience and results.
About Frontgate Real Estate
Frontgate Real Estate is a premier boutique luxury real estate firm led by real estate veterans Dana Olmes and Jeffery Biebuyck. Headquartered in the Hidden Hills Community at 23500 Long Valley Road, Frontgate specializes in servicing Los Angeles' most exclusive neighborhoods, gated communities and clientele offering a high-tech, high-touch approach.
About Side
Side transforms high-performing agents, teams and independent brokerages into successful businesses and boutique brands that are 100% agent-owned. Side exclusively partners with the best agents, empowering them with proprietary technology and a premier support team designed to improve productivity, grow their business and focus on delivering the best client service. Side is headquartered in San Francisco. For more information, visit http://www.sideinc.com.
Media Contacts
Emily Warner | Vanessa Villatoro | Brandon Muratalla
Murphy O'Brien
sidepr@murphyobrien.com