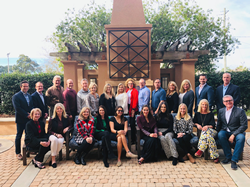 "We've always had a growth mindset from the very start, and we view our new affiliation with Berkshire Hathaway HomeServices PenFed Realty as the next, most logical step for our growth." —Sherlyn Waghalter
PENSACOLA, Fla. (PRWEB) December 12, 2019
Berkshire Hathaway HomeServices PenFed Realty, one of the country's fastest-growing real estate companies, today welcomes the real estate professionals of RE/MAX On the Coast to the company's family of Emerald Coast brokerages.
"We are excited to welcome broker/owners Sam and Sherlyn Waghalter and their extended family of agents and staff to the company," said Royce Mitchell, Regional Vice President, Florida. "They've grown their firm into a powerhouse brokerage and one of the most well-respected in the area, and we consider it an honor and a validation of our mission, vision and values that Sam, Sherlyn and their team chose to join with us."
Founded by Sam and Sherlyn Waghalter in 2005, the office has been one of the top ten real estate companies in the Pensacola market since it began. The office has a roster of over 25 of the most respected real estate professionals in the area and boasts over $1 billion in sales since the company started.
"We have been selective about the agents that represent our office," said Sam Waghalter. "They are experienced agents that conduct business with integrity and have been an asset to our company and the community."
"We've always had a growth mindset from the very start, and we view our new affiliation with Berkshire Hathaway HomeServices PenFed Realty as the next, most logical step for our growth," said Sherlyn Waghalter. "We're so proud to partner with such a respected brand as Berkshire Hathaway HomeServices, along with PenFed—the second largest federal credit union in the country. But while our brand is changing, our commitment to the real estate needs of Pensacola-area homebuyers and sellers remains as strong as ever."
In addition to her passion for real estate, Sherlyn Waghalter has been actively involved in giving back to her industry and the community. She is a long-time member of the Pensacola Bay Area Impact 100, served as a mentor for Take Stock in Children, and was on the board of the Pensacola Association of Realtors®. She hails from Baton Rouge, La., but her family has called Florida "home" for 25 years. After the transition, Sherlyn will stay true to her passion and continue to sell real estate.
Effective December 19, the company will be rebranded as Berkshire Hathaway HomeServices PenFed Realty but will continue in its present location at 836 Gulf Breeze Pkwy., Gulf Breeze, Fla. Sherlyn, Sam and the rest of the team can be reached at 850-932-6278.
About Berkshire Hathaway HomeServices PenFed Realty
Berkshire Hathaway HomeServices PenFed Realty (bhhspenfed.com) is a full-service real estate company with an annual sales volume of almost $5 billion. The company has 1,800 agents and more than 50 offices, providing complete real estate services nationwide. PenFed Realty is a wholly-owned subsidiary of PenFed Credit Union and is a member of the Berkshire Hathaway HomeServices brokerage network, operated by HSF Affiliates LLC. Membership with PenFed Credit Union is not required to conduct business with BHHS PenFed Realty. We are proud to be an equal employment opportunity employer. Equal Housing Opportunity.