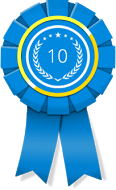 NEW YORK (PRWEB) July 30, 2018
10 Best Design recently selected the winners of its Best Responsive Web Design Firm awards for July 2018, giving Ruckus Marketing the top prize.
The award is significant because it addresses an important need within the industry. If one wants a website to have the maximum effect possible, it must be useful across all types of digital platforms. Take a look on the Internet today and it will not take very long to find a myriad of sites that simply look horrible and lose all functionality when displayed on a mobile device. This is because websites are designed by default to work on a desktop computer. Move to the smaller screen of a mobile phone or tablet, and the results can be disastrous. This will cause prospects to click off the site faster than they arrived. Because of this, it is important to have the best responsive web design firm working on a site from the beginning.
Following are details about the top two responsive web design firms. Ruckus Marketing earned the top position on the list of best responsive web design firms because of their professionalism and dedication to the craft. Their team of designers understand the importance of delivering desktop functionality to the mobile platform. They are also able to design a site so that it loads quickly on all types of devices. This is important because the average Internet user today does not have a lot of patience when visiting a site that loads slowly. With Ruckus Marketing, images will load quickly and without delay. This will deliver more prospects to the client than would otherwise be possible.
Blue Fountain Media is a close runner up in the responsive web design firm category. As a leading RWD agency, Blue Fountain Media is able to design a site that looks great and will sense what type of device is trying to pull it up. Clients have remarked about their appreciation for the design of the site and the way that their clients are able to use the functions of the page right on their own mobile phone or tablet. This is all about delivering to the client what their users are requesting. With more and more people today using mobile devices to do much of the Internet searching, it is important to deliver a site that meets them where they are. That is why it is important to have a responsive website.
This is a new monthly award that will continue to be handed out to the best responsive web design firms in the industry. Companies are urged to keep checking back at http://www.10bestdesign to learn more about key providers in this area.