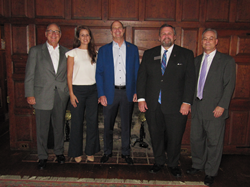 We are thrilled to welcome Barbara, Blake and their extended family of agents into our company. - Ray Ferguson, regional vice president of Berkshire Hathaway HomeServices PenFed Realty in Richmond
RICHMOND, Va. (PRWEB) August 26, 2019
Berkshire Hathaway HomeServices PenFed Realty, one of the country's fastest-growing real estate brokerages, today announced that Eudailey Real Estate, a top brokerage in Richmond, Virginia, will form the company's fourth location in the Richmond area.
Owned by Barbara Eudailey and led by her son, managing broker Blake Eudailey, Eudailey Real Estate has been a top real estate group in Central Virginia since it was established by Bill and Barbara Eudailey in 1973. Its agents will continue to operate out of its current location at 9012 Three Chopt Road, Suite 100, Richmond, Virginia, 23229.
"We are thrilled to welcome Barbara, Blake and their extended family of agents into our company," said Ray Ferguson, regional vice president of Berkshire Hathaway HomeServices PenFed Realty in Richmond. "They've grown their firm into one of the most well-respected brokerages in Richmond, and we consider it an honor and a validation of our mission, vision and values when a firm like Eudailey Real Estate chooses to join us."
Once the transition is complete on September 1, 2019, the office will be managed by Andy Wyman and will join the three other Richmond PenFed Realty family of offices that are located in Chesterfield, Henrico and Short Pump.
"We've been a part of the Richmond real estate community for over four decades," said Blake Eudailey. "Throughout that time, we've focused on finding ways to best serve our clients and provide them the top-notch service they deserve. We're excited to join one of the world's most trusted and respected brands, and we believe that both our agents and our clients will appreciate the added value in brand recognition, and use it to their advantage."
Continuing to expand its agent roster is a primary goal in the coming months as the company continues to focus on increasing its market share in the Richmond area.
"The Eudailey family and the firm's agents share our commitment to honesty, integrity and professionalism," said Ferguson. "We're very excited to be working together to offer our clients world class service."
Ray Ferguson can be reached at 804-915-4037 or via email at ray.ferguson(at)penfedrealty.com.
About Berkshire Hathaway HomeServices PenFed Realty
Berkshire Hathaway HomeServices PenFed Realty (http://www.penfedrealty.com) is a full-service real estate company with an annual sales volume of almost $5 billion. The company has 1,800 agents and more than 50 offices, providing complete real estate services nationwide. PenFed Realty is a wholly-owned subsidiary of PenFed Credit Union and is a member of the Berkshire Hathaway HomeServices brokerage network, operated by HSF Affiliates LLC. We are proud to be an equal employment opportunity employer. Equal Housing Opportunity.
Twitter: https://twitter.com/intent/user?screen_name=PenFedRealty&variant=2.0
Facebook: https://www.facebook.com/PenFedRealty/