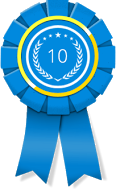 SAN FRANCISCO (PRWEB) July 31, 2018
Presenting its latest monthly awards for best San Francisco web design firms, 10 Best Design has named Arhue as a prime provider in this category. The monthly awards list represents a valuable resources for companies seeking to meet their professional needs in this area.
There is a reason why San Francisco is considered to be in the heart of the Silicon Valley. This is the one place in the country where ingenuity is king and tradition is almost thrown out the window. This is a place where people can go to a professional web design company and expect miracles to come out of the process. If a new website is on the table, it is important to consider having the top San Francisco web design agency take charge of the process. With that in mind, here is a look at the top three companies and why each has recently been designated as the best web design firm.
With its mission in life being to create a digital presence for each client that they serve, Arhue is a key option to consider when companies need a unique and consumer focused website. In fact, custom designed websites are the focus of Arhue, a top web design firm based in San Francisco. Clients can enjoy such innovations of video embedded into the home pages, high quality photographs, modern fonts, form-generating pages, and so much more.
When it comes to unique website design in the San Francisco Bay Area, EIGHT25MEDIA really cannot be beat as one of the top San Francisco web design agencies. Their team of designers meets with each client to determine a profile that enables them to develop a unique site from the ground up. This is an excellent way to determine what clients desire today out of the companies they choose to patronize and then act accordingly.
KNI is leading web design agency also based in San Francisco. Being in this location enables KNI's designers to benefit from having so many key players in the field nearby to consult when necessary. KNI has become adept at developing websites that are both unique and creative. This is seen as a way for their client to gauge the competition and then prepare a website that will meet the client's overall needs.
This list will not stop here. 10 Best Designs will be giving out this award on a monthly basis, so the very best and brightest of web design firms throughout the San Francisco area will be looking forward to their chance of earning the designation as being the 'best'. For more information, visit http://www.10BestDesign.com.