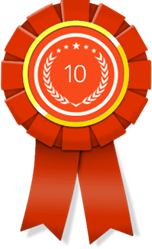 CHICAGO (PRWEB) April 29, 2019
For April 2019, 10 Best SEO has selected Straight North as the leading agency in the Best SEO Agency and Best Online Marketing Agency category. The digital marketing specialists and researchers at 10 Best SEO have carefully evaluated proprietary analytics, reviews, traffic, and other ranking factors to decide the recipients of this month's awards.
The importance of these awards for potential clients cannot be understated. Major search engines such as Google, Bing, Yandex, and Baidu are constantly changing and updating their algorithms, which means that prospective clients should keep an eye on the agencies collecting accolades in the dynamic sector of digital marketing.
Straight North is an agency specializing in traditional search engine optimization, pay-per-click advertising, web design, and email marketing. As this month's top SEO agency, Straight North has amassed an impressive portfolio of satisfied clients that operate across many industries. An interesting aspect of Straight North's work is that many of their clients require business-to-business (B2B) marketing services, which tends to be more specialized and focused than business-to-consumer (B2C) marketing.
Ignite Visibility, a leading SEO agency based in San Diego, serves clients in the United States, Canada and the United Kingdom. Although it was ranked as a top SEO agency, Ignite also provides search engine marketing services that are more involved with digital branding. From interactive campaigns to social media marketing and online reputation management programs, this agency focuses on establishing an internet presence that is closely aligned with the brands of their clients.
Boostability is a full-service digital marketing firm that has also earned many accolades as one of this month's best online marketing agencies. Located in the Utah "Silicon Slopes" region, Boostability is a firm believer in the modern practice of link building, a technique that involves getting high-authority websites to mention, recognize and recommend other brands. This agency has previously earned online marketing awards, and it manages to stay busy with more than 25,000 active clients.
For prospective clients looking to gain the most from their internet presence, working with top SEO agencies is highly recommended; moreover, they should also evaluate other services that these award winners can offer. When it comes to digital marketing, SEO is just a stepping stone. An interactive website or a digital branding campaign that directly engages customers on social media can go a long way toward online marketing success.
Please visit http://www.10bestseo.com for more information about the winning agencies for the month of April.