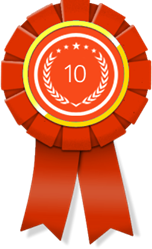 CHICAGO (PRWEB) December 24, 2018
10 Best SEO is pleased to announce the winners of its Best SEO Agency awards for December 2018, with Straight North taking the top honor.
10 Best SEO is a San Francisco-based company made up of web-service experts with talent stemming from all web-related professions. The organization ranks several contenders running for the title of the top SEO business on a monthly basis. Here is a summary of the firms featured in the new ranking for December.
Straight North earned the top spot on the list of best SEO agencies for December. Leading SEO business Ignite Visibility came in second place, although its rating of 99 percent matched that of Chicago-based Straight North. Utah's Boostability rounded out the top three SEO firms for December 2018 with a 98-percent rating. Interestingly, Boostability is a top SEO agency that offers the second-lowest hourly rate of 22 ranked firms.
For many businesses, SEO is a critical component of operating successfully. Without holding a high ranking on first-tier search engines like Google and Yahoo, businesses and organizations are less likely to be noticed by web users than their high-ranked counterparts. Once entities obtain a front-page ranking on Google, for example, the battle has all but begun. Considering that Google changes up its ranking algorithm over 100 times each year, maintaining a high ranking is something that is never set in stone.
Official statistics do not exist related to how many searches Google processes per day, though current search engine optimization experts' estimates place the number of searches the site goes through on a daily basis at somewhere between four and 10 billion. By the end of 2018, Google is thought to have satisfied between 1.3 and 3.7 trillion searches.
Take the following statistics into consideration. Rather than directly visiting websites that provide things that smartphone users want, three-quarters of them first use search engines to find what they are looking for. Two-thirds—over 67 percent—of United States residents regularly use a smartphone. In terms of United States households, roughly three-quarters—74 percent—of them own and regularly use at least one smartphone. Lastly, one-third—33 percent—of smartphone-processed Internet searches are made within minutes of entering stores.
Obviously, all of these statistics are primarily related to smartphones, and there are many people who primarily use computers. These PC-users probably rely on Google, which is why 10 Best SEO's list of winning companies is important. The winning companies are experts in Google, which entails the majority of all search engine results.
For more information about this month's winners, visit http://www.10bestseo.com.