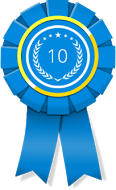 SAN FRANCISCO (PRWEB) August 23, 2018
10 Best Design recently bestowed awards on several web development companies for their outstanding work in web design. The winner's list for the month of August is led by Arhue.
The company used various factors to determine which companies would receive the top SF web development agency recognition. These companies had innovative design ideas, award-worthy strategies and stellar service. They weren't afraid to try new things or travel down unexplored creative avenues. The following are the top recipients of such acclaim.
Arhue received recognition as the best web design firm out of all the firms. They had the largest suite of varied products and services that boosted the clients' productivity and conversations. As a leading web design firm, Arhue is unique because it is passionate about what it does. The company is a San Francisco-based firm that has been operating since 2011. They are well known, as they have done business with industry leaders such as Google, Marriott, Wells Fargo, Adidas and the like. Clients can trust this company not only for fair pricing but also for design and development that only an award-winning company can give.
Eight25Media is a top web design firm that has consistently shown positive results among the best SF web development agencies. It has put together more than 500 websites that have gone on to be successful projects. The company offers competitive strategies from the first moment to last and has seen its clients succeed because of it. The experts can build responsive websites, create award-winning web pages, and work with the clients to strategize their continued success.
KNI is a top web design firm that is family-oriented and does it all for its clients. The company has its headquarters in San Francisco, and it services thousands of people. The experts of this business work hard to supply their clients with fresh website material that will catapult their popularity and sales. They understand that the masses need to see fresh visual components and receive mind jogging messages to be fulfilled. Their vision is to take their clients to new heights by designing them phenomenal sites that embrace the future and bring success.
Stay tuned for more award announcements by 10 Best Design, as the company will always be updating new information on the hot new web design companies in the industry.
For more information about the award-winning San Francisco firms for August 2018, visit http://www.10bestdesign.com.