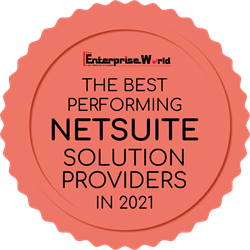 "Recognition like being on the Best Performing NetSuite Solution Provider list affirms our commitment to helping our customers realize profitability and productivity."
METAIRIE, La. (PRWEB) March 19, 2021
Top Step, an award-winning and leading provider of Professional Services Automation solutions, has been named as a best performing NetSuite solution provider for 2021 by The Enterprise World.
The Enterprise World is a business magazine for business minds to share their stories of success and the challenges they have encountered to become the leaders they are now in the enterprise world. They focus on specific industries or topics each month, recognizing the leaders in that space. The March edition showcases the most dynamic companies that have made significant contributions to delivering NetSuite solutions.
"It is an honor to be recognized by The Enterprise World as a best performing NetSuite solution provider. Over the last thirteen years, we've been able to focus our efforts on helping professional services organizations in the area of our expertise; PS automation and efficiency," says Ronn Breaux, CEO and President, Top Step. "Recognition like being on the Best Performing NetSuite Solution Provider list affirms our commitment to helping our customers realize profitability and productivity."
Top Step continues to innovate their professional services automation solutions and services with a long-term outlook on enabling the success of their customers. Investment to innovate within a professional services organization often takes a low priority. Top Step is on a mission to demonstrate the investment in professional services automation does provide a return on investment if done correctly.
Top Step has been given many awards and recognition over the years including SPI Research "Best of the Best Professional Services Organizations," recognized as one of the "Ten Most Promising Professional Services Automation Companies 2020" by CIO Review, and named a "2020 Fastest-Growing Firm" by Consulting Magazine.
Read more about what The Enterprise World has to say about Top Step in the March edition cover story
About Top Step
Top Step improves business efficiency and productivity for Professional Services business operations. They help clients achieve their profitability goals allowing them to focus on building their business. Their team has extensive experience in professional services business operations, professional services automation (PSA), and project management. They have served over 380 organizations across the globe and have been awarded "Best of the Best" by SPI Research and named as one of the fastest-growing private companies by Consulting Magazine and Inc. 5000. To learn how Top Step brings operational efficiency for Professional Services, visit http://www.topstepllc.com.