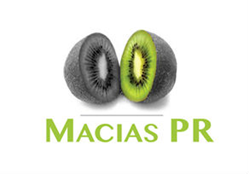 It was a great year for our clients. We got their stories told with some of the most influential publications in 2020, even with the pandemic dominating the news. ~Mark Macias, Founder of MACIAS PR
NEW YORK (PRWEB) December 09, 2020
The top tech and healthcare PR agency — MACIAS PR— has released its annual media report, detailing the coverage they secured for clients in 2020. The list of prominent media placements includes stories with Forbes, TechCrunch, CNBC, San Francisco Chronicle, Business Insider, New York Times, Politico as well as international coverage with the UK Daily Express and Independent.
The NYC-based PR agency also secured targeted TV segments in 2020 with CBS News in Baltimore, Fox News in Detroit, NBC Los Angeles, ABC Washington, News 12 in New York, NY 1 and NJ TV.
"It was a great year for our clients. We got their stories told with some of the most influential publications in 2020, even with the pandemic dominating the news," said Mark Macias, founder of MACIAS PR. "As we look ahead to 2021, our media strategy and creative approach to telling stories will continue to expand as our agency keeps talking to reporters and producers."
For the fourth year in a row, marketing peers named MACIAS PR the Strategic PR Firm of the Year. The ACQ5 Awards recognized MACIAS PR as an industry leader based on their expertise, media deliverables and innovation in public relations. Macias also became a PR and branding contributor for Forbes and Entrepreneur Magazine in 2020.
Companies interested in receiving a free PR quote can click here to get an estimate and proposal.
Closer Look at Media Coverage in Q3 and Q4
In the third and fourth quarters, MACIAS PR led a media and branding campaign for a political activist and artist. The strategy led to a front page story in the New York Times, Politico and dozens of other media outlets.
MACIAS PR also led two media campaigns for Congressional challengers in Arizona and Illinois. In both of those Congressional campaigns, MACIAS PR conducted scientific political polling that gave the candidates insight into voter sentiment. The challenger in Arizona went on to win the Democratic primary in August.
MACIAS PR also introduced a new PR service in 2020, conducting consumer surveys to assist with media and branding campaigns.
One survey conducted by the agency took a closer look at how the global pandemic is influencing consumer engagement during news consumption. The survey detailed how content marketing and PR are becoming more influential in today's market. The survey results were covered by major trade and marketing publications, including Forbes, ODwyer PR and 60 Second Marketer.
Macias says these consumer surveys and political polls provide reporters with new elements for news stories.
"These surveys and political polls give us new opportunities and elements to position our clients in the news," said Macias. "This research also gives clients additional insight into consumer behavior. We can dissect these results and answers by demographic or region based on the needs of the story. Technology is making these surveys and polls more accessible and affordable to businesses of all sizes."
About MACIAS PR
MACIAS PR was named the 2017-2020 Strategic PR Firm of the Year by marketing peers. The NYC-based agency works with clients across the healthcare, technology, fintech, political and nonprofit industries. The founder of the firm, Mark Macias, is a former Executive Producer with NBC and Senior Producer with CBS in New York, providing a unique insider experience for their clients.
Macias is the author of the business book Beat the Press: Your Guide to Managing the Media and a frequent media contributor with CNBC, Forbes, and The Daily Caller where he gives PR, media, and crisis advice on timely business and political stories.
Companies interested in receiving a free PR quote can click here to get an estimate and proposal.