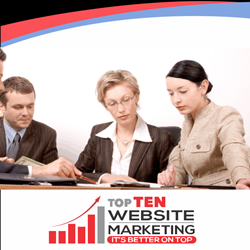 In terms of SEO, a high-quality Website is the key to your website's high ranking in the search results.
PARKLAND, Fla. (PRWEB) March 23, 2021
Top Ten Website Marketing, announced today that they are offering 30% off on their custom HTML5 website development in the month of April.
Their expertise is in local and national Search Engine Optimization and custom hand-coded website development. They have a skilled team of web designers, website developers & SEO experts at Top Ten Website Marketing. They are ready to assist small, medium and large companies in the service industry with website development needs and search engine optimization.
SEO is an art and the science of getting pages to rank higher in search engines such as Google, ultimately increasing search engine traffic to your company's website. The first step to achieve high ranking is a high-quality and properly structured website that is user friendly, responsive (mobile friendly), page speed optimized, W3C validated, and new in 2021 all of our new websites will be ADA compliant.
Their custom high-quality websites are developed HTML5 + CSS + JavaScript and in terms of SEO will outperform other website frameworks. If you are a non-coder and you think that you will save money by using a template, CMS (WordPress) or a DIY website builder, you are WRONG.
Google loves to see websites that are well coded and clearly structured. It is how it makes sense of your site's information. Your website could be the best-looking website, but if the coding behind it is poor then it may as well not exist in Google terms.

Disadvantages of website templates such as CMS (WordPress) websites include slow page speed, poor SEO ranking, difficult to manage, frequently needed plugin updates, website vulnerability, and the website can easily go down.
Disadvantages of a DIY website is that they will not compete with your competitors and will likely not be found at all. You will be paying a higher monthly hosting fee and since you do not own the website you will not be able to move to another hosting provider. If you consider the real cost of having an unprofessional web design, your business will most definitely suffer.
In today's digital market you have many options for online advertising, Search Engine Optimization (SEO) should be your number one priority.
Top Ten Website Marketing has over thirteen years of experience in the Internet marketing industry, they have a talented team, and the knowledge and SEO tools help your company website rank higher in the search engines. Higher ranking means more online traffic and leads for your company.
About Top Ten Website Marketing: Top Ten Website Marketing is a full-service website development and internet marketing agency located in Broward County, Florida.
Contact: Pete Pekofsky
Company: Top Ten Website Marketing
Phone: 305-970-5699
pete(at)metroseo.net
https://www.top-ten-website-marketing.com