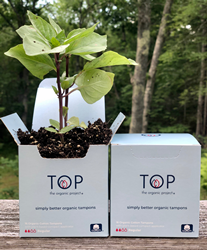 TOP the organic project, a women-owned period product brand that makes plant-based, 100% organic cotton tampons and pads, will Plant the Change starting August 19th and advocate for all women to seek a deeper understanding of their own health, well-being and the environment. Thyme Sullivan, TOP CEO
DUXBURY, Mass. (PRWEB) August 14, 2020
While 2020 has been full of uncertainty, it has also been a year of collective growth for women around the world. In light of this, TOP the organic project (TOP) is launching a new initiative, Plant the Change, encouraging its female community to take a pause and make a pledge to do better, together – in big and small ways.
TOP, a women-owned period product company that makes plant-based, 100% certified-organic cotton tampons and pads, will Plant the Change starting on August 19 and advocate for all women and girls to be introspective and seek a deeper understanding of their own health and well-being, the environment as well as social change. The initiative, running until the end of September, is aimed to empower females to embrace this year's many challenges by trying to find the good and creating change for the better.
"This year has forced many of us to change," says Thyme Sullivan, TOP co-founder and CEO. "It's been a devastating year on so many levels and has impacted each of us in many different ways. At TOP, we're choosing to find the silver lining by pledging to make positive improvements and focus on what matters most. We're asking our community to join us. We all have the power to make change and are encouraging women around the world to vow to take better care of their bodies, health, the environment or any other causes that are close to their hearts."
Here is how TOP's Plant the Change initiative works:

We invite our community to visit https://toporganicproject.com/pages/plant-the-change and make a personal pledge to commit to causes most important to them – big or small. It can be as simple as pledging to swap out their tampons for plant-based, organic ones and thus, protecting the planet and their personal health. Or, by promising to donate time to a local nonprofit, grabbing groceries for a neighbor, tutoring kids in need, supporting local businesses, voting, getting involved in Black Lives Matter, leading a plant-based lifestyle, being kinder to strangers or anything else they see fit.
In addition to their pledge, participants can share a photo (a selfie, pet, favorite plant, etc.) and their city. And by doing so, TOP will highlight different members from its community throughout September to inspire all of us to make changes for ourselves, our families and our communities.
Inspiring Change.
Throughout August and September, TOP will call on female artists to creatively interpret and bring its Plant the Change initiative to life, using their own styles and incorporating plants, greenery, and other sustainable materials into their pieces. The artists and their photography, paintings, drawings and graphic designs will be featured on TOP's Instagram channels during the campaign. What's more, in honor of each artist, the company will donate period products to a nonprofit, school or food bank of the artist's choice. The brand is aiming to donate 20,000 period products to support women and girls in need across the country as part of their charitable giving program. To date, TOP has given 250,000 products to organizations dedicated to helping women and girls who need it the most.
About TOP the organic project:
TOP the organic project is an emerging, women-owned period product company based in Duxbury, MA, that aims to educate and empower women to make better choices about the products they consume and the impact they have on their bodies, as well as the environment. TOP offers 100% organic cotton, plant-based, hypoallergenic tampons and pads that are accessible to everyone with a give-back model that drives awareness of period poverty in the U.S. Founded by Thyme Sullivan and Denielle Finkelstein, mothers and seasoned executives with decades of relevant corporate experience, TOP dreams of a world in which every girl and woman has access to healthy, organic period products that are good for them and the planet. To learn more, visit http://www.toporganicproject.com.
Instagram & Facebook: @TOPOrganicProject | Twitter: TOP_ORGANIC | TikTok: @top_tampon
http://www.toporganicproject.com.