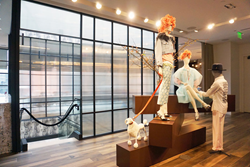 Bendheim's design consultants point to three macro tendencies – renewed retro-chic, cosmic luminosity, and metamorphic design – that will define the use of specialty glass and drive its development and specification in 2019
NEW YORK (PRWEB) November 28, 2018
Decorative architectural glass is changing the way designers shape contemporary retail spaces, creating instant eye-catching cues to draw in shoppers during the holiday season and beyond. Bendheim's design consultants point to three macro tendencies – renewed retro-chic, cosmic luminosity, and metamorphic design – that will define the use of specialty glass and drive its development and specification in 2019.
Renewed Retro-Chic
The desire to create retail experiences imbued with a sense of mystery and discovery is driving the growing use of privacy textured glass in contemporary store fronts and partitions, as seen throughout Droese Raney Architecture's Forty Five Ten fashion flagship in Dallas, TX. The multilevel boutique features Bendheim's retro-chic linear textured glass, installed in matte-black divided-lite frames. Bendheim's exclusive Houdini™ micro-fluted glass creates the fitting room doors, combining the highest level of privacy and light transmittance.
Cosmic Luminosity
There is a growing demand for back-lit, luminous, sparkling architectural glass surfaces, including the company's color-shifting dichroic glass varieties. At the World Trade Center's new Forever 21 apparel store in New York City by McCall Design, Bendheim's Optichroic® glass clads the walls and retail displays in vivid, dynamic colors that reflect and amplify the ambient light. The shifting glass hues add a kinetic quality to the space, drawing customers in.
A back-lit Bendheim channel glass rainscreen facade is the attention-grabber at the recently renovated Blu Dot modern furniture showroom in West Hollywood, CA, by Standard Architecture. The luminous cantilevered glass rainscreen transforms the 70-year old structure, creating an otherworldly floating "crown." The glass system's unique frame design, free of intermediate vertical framing, contributes to the structure's uniform, shadow-free cosmic glow.
Metamorphic Design
The necessity to design retail spaces that accommodate rapid transformations, including brand- and seasonally-driven updates, is a driving force in the development of Bendheim's newest architectural glass systems. The company now provides quick-install exterior and interior glass cladding systems for the rapid addition and replacement of decorative glass, facilitating metamorphic designs. With Bendheim's new TurnKey™ interior wall system, crews can update glass walls within minutes, demolition-free. For multi-store designs, the ease-of-use and flexibility of the system provide a rapid, budget-friendly method to welcome new tenants. Inside retail spaces, graphic glass panels can be replaced almost instantly for new product roll-outs or to service systems behind the cladding, such as LED back-lighting.
The National Retail Federation points to experiential design as one of the key influencers in contemporary retail concepts. Bendheim predicts this type of design – characterized by memorable spaces designed for change – will continue to drive the specification of decorative architectural glass in the new year. To learn more about Bendheim's ongoing work in the field of retail design and beyond, please visit http://www.bendheim.com.