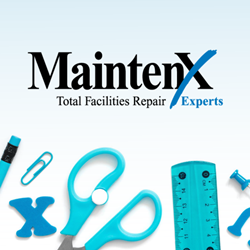 Facility managers are in a special position to help protect the well-being of teachers, students, staff and families through the physical experience at a school.
TAMPA, Fla. (PRWEB) August 13, 2020
MaintenX International, one of the nation's largest self-performing providers of commercial facility maintenance, is helping school facility managers prepare their buildings for the return of students as cities begin to transition their students back to campus. While these decisions are complex and personal, the CDC recognizes the importance of reopening schools this fall.
"Reopening preparations will need take additional health and safety modifications into consideration," said Bill Schaphorst, MaintenX's VP of Business Development. "Our skilled technicians are able to walk through preventative or reactive maintenance ideas with facility managers. Some schools may benefit from small projects like changing air filters or larger changes like installing new, touchless water fountain options or installing new dividing walls."
Facility managers are in a special position to help protect the well-being of teachers, students, staff and families through the physical experience at a school. Here are some of MaintenX's top tips for maintenance on campuses this fall:

Be Bold and Clear: One major component of bringing students back to campus and being careful to slow the spread of COVID-19 is social distancing. Facility managers should evaluate areas on campus where bottlenecks can occur, especially around high traffic areas like cafeteria entrances and carpool lines and marking out reminders to keep the recommended 6-foot distance between people. This could look like paint marks on sidewalks or installing colored carpet squares in classrooms. This is a fun opportunity to let creativity shine through!
Reenvision, Reconfigure and Repurpose: In alignment with advice from the CDC, facility managers should think about ways to repurpose unused spaces or reenvision how underutilized areas could be reconfigured to better facilitate social distancing. For example, removing non-permanent barrier walls, adding shade options to outdoor areas or rearranging furniture to maximize space can all help maintain a healthy environment on campus.
Don't Overlook the Usual: MaintenX wants facility managers to make sure they don't forget about the usual back-to-school playbook while considering the changes brought on by the pandemic. If a school doesn't already have a preventative maintenance plan with scheduled evaluations and repairs, this is a great time to put one in place. By executing small, prescribed updates to common facility elements like HVAC/R, alarm and lighting systems, plumbing, and roofs, facility managers can help reduce unexpected breakdowns or expensive repairs that could be made more complicated during these unpredictable times.
For more information about MaintenX, or learn more about their suite of self-performing maintenance solutions, visit http://www.maintenx.com.
ABOUT MAINTENX INTERNATIONAL:
MaintenX International is a fully licensed, facilities repair company. As one of the largest national self-performing facility maintenance and repair companies in the U.S., MaintenX has created a wide network of knowledgeable and professional technicians throughout the country. With their team of well-trained technicians, MaintenX self-performs and manages facility maintenance for their clients. In the event there is not a MaintenX technician in an area, the company has established a network of preferred vendor partners throughout the country for continued superior service for their clients. For more than 40 years, MaintenX has been expertly serving multi-location retail stores, restaurant chains and Fortune 500 companies nationwide.