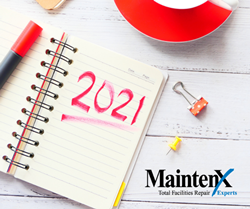 That's why MaintenX encourages all facility managers to take the start of a new year as an opportunity to review their maintenance plans.
TAMPA, Fla. (PRWEB) January 05, 2021
The beginning of a new year is a wonderful time for reflection and provides an exciting chance to look ahead. For facility managers, that often includes planning for preventative maintenance, facility upgrades, and other important projects to make buildings better for employees and customers, alike. As we head into 2021, MaintenX International, one of the nation's largest providers of commercial facility maintenance, wants to help facility managers with some top tips for start-of-the-year success.
"The beginning of a new year brings fresh ideas and energy to a space," said Bill Schaphorst, MaintenX's VP of Business Development. "That's why MaintenX encourages all facility managers to take the start of a new year as an opportunity to review their maintenance plans. Additionally, it's important to look at the upcoming year as a whole to best craft a plan that addresses wants and needs across the entire facility envelope."
For more than 40 years, MaintenX International has been providing facility managers with assistance managing and maintaining their buildings. Here are some tips to help plan for a successful new year:

Reduce Reactive Maintenance: The more that can be done to reduce the need for reactive maintenance, the better. The easiest way for facility managers to reduce the likelihood of the faults and failures that lead to reactive repairs is a strong preventative maintenance plan. By regularly scheduling inspections, replacements and upgrades, facility managers are helping to ensure problems can be identified and address while they are small. Stopping facility maintenance issues before they escalate helps reduce the likelihood of costly repairs, shutdowns or safety issues.
Prepare for Maintenance Emergencies: A consistent and thoughtful preventative maintenance schedule should help keep major catastrophes at bay, however it is always wise to be prepared for an unexpected maintenance issue. If a business doesn't already have a dedicated maintenance team, a professional commercial maintenance provider like MaintenX can provide quick and thorough assistance in a moment of need. It is a good practice to have the names and numbers of trusted, local repair companies at the ready. Also, be sure employees and business leadership are aware of facility maintenance procedures, so they can reach out quickly should any facility problems arise.
Think Big: The beginning of each year is a great time to think big about the needs (and wants!) for a building. Are there big projects in the pipeline – maybe a new roof, updated plumbing or a remodeled showroom floor are needed? Are there wish list items that could be completed in the new year? What kind of time and budget would be needed to go from vision to reality? MaintenX recommends charting out needs and desires to begin understanding the budget, time and manpower needed to bring these kinds of exciting projects to life during the new year.
For more information about MaintenX and the variety of maintenance services they offer, or to discuss your facility maintenance needs, visit http://www.maintenx.com.
ABOUT MAINTENX INTERNATIONAL:
MaintenX International is a fully licensed, facilities repair company. As one of the largest national self-performing facility maintenance and repair companies in the U.S., MaintenX has created a wide network of knowledgeable and professional technicians throughout the country. With their team of well-trained technicians, MaintenX self-performs and manages facility maintenance for their clients. In the event there is not a MaintenX technician in an area, the company has established a network of preferred vendor partners throughout the country for continued superior service for their clients. For more than 40 years, MaintenX has been expertly serving multi-location retail stores, restaurant chains and Fortune 500 companies nationwide.