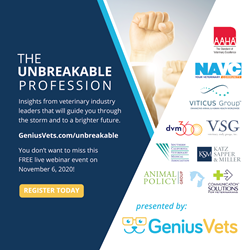 Amongst this tragedy of a pandemic come some great opportunities for veterinarians.
SAN DIEGO (PRWEB) October 27, 2020
2020 has taught us a lot about ourselves, our country, and our economy. What might be most shocking and yet also promising is that, while other industries have collapsed, the veterinary field has emerged as an icon of resiliency. Pet ownership has catapulted to new heights, and this has driven more business for veterinary practices despite fears of a recession. DVMs and their staffs have emerged as heroes in 2020, finding ways to help pet owners in their community despite challenges with staffing, curbside intake, social distancing and more. But it's important to note that even those in this unbreakable profession are not out of the woods yet. While remaining cautiously optimistic, the 12 industry leaders featured in this event warn of the obstacles that still lie ahead, and how to navigate these to emerge stronger on the other side.
Chief Veterinary Officer for DVM360, Adam Christman said, "Amongst this tragedy of a pandemic come some great opportunities for veterinarians."
This virtual event promises to provide attendees with powerful insights on a wide range of subjects, including but not limited to:

Staffing, hiring, and retention
Telehealth and how to meet the growing demand while ensuring top-quality care
COVID's continuing impact on veterinary practices
How to attract and engage pet owners in this environment
Business processes to improve efficiency, particularly with increased call volume
The future of veterinary conferences and virtual learning
The secrets to veterinary success in any market condition
The industry leaders featured in this event include Dr. Peter Weinstein (SCVMA), Dr. Adam Christman (dvm360), Dr. Heather Loenser (AAHA), Terry O'Neil (Katz, Sapper & Miller's Veterinary Services Group), Dr. Michele Drake (The Drake Center for Veterinary Care), Dr. John Tait (John Tait Veterinary Consulting, VSG), Wendy Myers (Communication Solutions for Veterinarians), Mark Cushing (Animal Policy Group), Dr. Dana Varble (NAVC), Steve Curvey (VMG), and Andrea Davis and Dr. Anthony Pease (Viticus Group/WVC).
GeniusVets — the top-performing marketing agency serving the veterinary industry — is hosting "The Unbreakable Profession" a free, all-day virtual event on Friday, November 6 from 10 am-6 pm EST.
Reservations are required and space is limited. To register, visit: https://www.geniusvets.com/unbreakable
About GeniusVets
The mission of GeniusVets is to create better pet health by educating and uniting pet owners and veterinarians. For more information about GeniusVets, visit geniusvets.com.