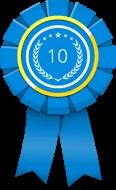 NEW YORK (PRWEB) September 10, 2019
10 Best Design recently developed a new monthly award that honors the top website design firms for their excellence. Consequently, the Best Web Design Firm award for August 219 has been granted to the following top three companies: Ruckus Marketing, Blue Fountain Media and SPINX Digital.
Ruckus Marketing is the best web design agency for August 2019, according to 10 Best Design's latest ranking. This firm is based in New York City and has been doing business for a decade. This firm has won a number of prestigious awards during its years in existence. At Ruckus Marketing, the team wants to tell the client's story by utilizing colorful graphics and responsive design. In addition to its work in website design, Ruckus Marketing also provides services to clients in the areas of branding and app development. Clients of this company include major names in the transportation and entertainment industries.
Blue Fountain Media is a digital marketing company headquartered in New York. As one of the best website development agencies, Blue Fountain Media is accustomed to working with clients of all sizes from startups to corporations that are in the Fortune 500. Among this firm's clients are notable technology and consumer services companies. The team at Blue Fountain Media works with each client to develop and design the website that will help the client have a unique presence within the client's industry.
SPINX Digital is top web design firm based in Los Angeles. The award-winning team at SPINX Digital has years of experience in the field of website design and have worked on designing websites for major corporations and non-profit organizations. The goal of the professionals at SPINX Digital is to create a visually-appealing website for each client that is informational and engaging.
10 Best Design uses research, and its knowledge of the web industry, to identify firms that are truly outstanding in their field. Ruckus Marketing, Blue Fountain Media and SPINX Digital are truly leaders in the field of website design. They have a commitment to thoroughly helping each client no matter how large or small the client's business. 10 Best Design is pleased to recognize these companies for being truly outstanding in their field.
For more information about the award-winning companies for August, visit http://www.10bestdesign.com.