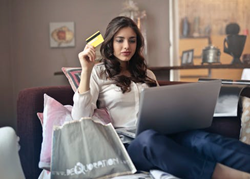 Rather than utilizing manual operations, such as A/B testing to determine the best combination of headlines or descriptions, it becomes an automated process that adapts and responds to users' reactions.
NEW YORK (PRWEB) November 28, 2018
Lounge Lizard is globally recognized as a top website design company within the web design and development industry. Lounge Lizard's brandtenders are creative, tech-savvy, and passionate in developing innovative strategies that drive conversion for both startup and established clients of all industries, making them the "best of breed since 1998."
Today NY based web design company, Lounge Lizard, shares why Responsive Search Ads are the most innovative change to search campaigns in 2018. In a nutshell, Responsive Search Ads are a more flexible format compared to traditional search ads where Google tests and then decides the best combination of headline and message to meet your advertising goals.
Google has been pushing for this type of AI-automation over the past year to basically let Google drive the advertising car rather than keeping users behind the wheel. They started with Dynamic Search Ads and moved into Automated Ad Suggestions (aka Ads Added by Google) with Responsive Search Ads being the current evolution the platform is undertaking.
Rather than utilizing manual operations, such as A/B testing to determine the best combination of headlines or descriptions, it becomes an automated process that adapts and responds to users' reactions. They will look to provide the best message to search groups based on a variety of factors such as keyword search terms, past browsing history, type of device, and more. While still in Beta Mode and not available to all advertisers, this new shift is extremely innovative and exciting. As of right now Responsive Search Ads are easily the most revolutionary change to search campaigns in the past few years.
Benefits of the new ad type:
1. More Space – The responsive search ads will feature up to three headlines rather than the current maximum of two. For character descriptions you aren't limited to one 80-character description but instead can show up to two 90-character ones.
2. Combination of Headlines and Descriptions – You can set up 15 headlines and four different descriptions for each search ad. Initially this will take some work getting used to as you want all combinations of headlines and descriptions to make sense if combined, however the number of headlines you can use means more variety to cover distinctive features, products, benefits, etc. within a single ad.
3. Adaptive Ads – Google will test combinations dynamically to find the combination most likely to meet your advertising goal. This will save time and energy on your end and almost undoubtedly will produce better results as Google's automated system has access to so much more information than the average business. With the maximum 15 headlines and 4 descriptions you can then combine them in 43,680 different ways. It will be much easier to rely on their AI rather than your own testing.
4. More Competitive – By using multiple ad options, your ad groups will then compete in more auctions for your keywords that trigger your ads. This can increase your ROI for digital marketing.
5. Higher CTR – This will be a bit subjective, but currently Google expects that Responsive Search Ads will have a 5-15% higher click-thru-rate compared to a standard ad. However, it is important to remember that those expectations only hold true when you vigorously follow Google's Best Practices.
6. Ability to Pin – If there are specific headlines or messages you always want to display you can "pin" them so that they always show in an ad combination. Of course, doing this them limits the automated testing as there will be less combinations available to try therefore it could hurt your overall potential if your instincts on what needs to be pinned does not align with what resonates best with customers.
Lounge Lizard Website Design Company is an award-winning, high-end design boutique specializing in website and mobile app development, UX/UI, branding, and marketing. Lounge Lizard excels in creating the ultimate brand strategy, fully loaded with expertly crafted visuals that work together to increase sales and effectively communicate a client's unique personality.
Media Contact: Ken Braun, Lounge Lizard, 631-581-1000, ken(dot)braun(at)loungelizard(dot)com